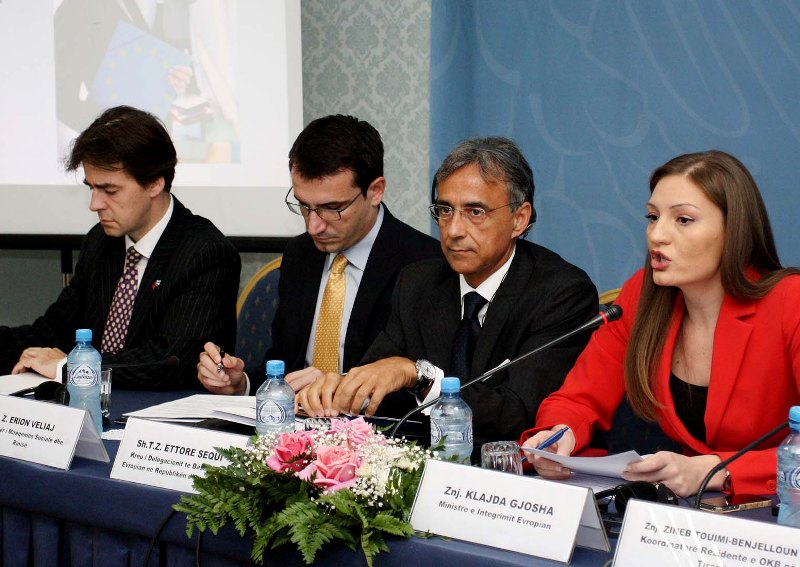 Tirana, October 30, 2013
The OSCE Presence in Albania organized a meeting with female parliamentarians, to support them in re-establishing the women's caucus in the Albanian Assembly, a structure that has been inactive for the last four years.
"In gender, as in all areas, Parliament not only reflects society, but also sets an example. It can counter inequality in all of its activities, from budget preparation to the making and evaluating of policy," said Robert Wilton, Deputy Head of the OSCE Presence in Albania.
"For the interests of women and men to be promoted equally, mentalities as well as modalities need to change. This will enable Albania to benefit from the full potential of all of its citizens."
This is the purpose of the OSCE's support to Albania's women MPs in strengthening their cohesion and impact, he added.
The women's caucus in the Albanian parliament was first established in 1995, and was renewed in 2008 with the support of the OSCE Presence in Albania. The caucus contributed to the passing of the 2008 Gender Equality Law and the inclusion of a gender quota in the Electoral Code, which stipulates that for each electoral zone, at least thirty per cent of the parties' lists should contain names of both men and women.
Women's representation in the Albanian parliament slightly increased from 16.4 per cent in 2009 to 17.8 per cent in 2013. The new government has announced that the ministers who are currently MPs will give up their parliamentary mandate, a move that is expected to further increase the number of women MPs, in line with the Electoral Code.
Remarks during the event were made by representatives from the three main parties; Olta Xhaçka (Socialist Party); Albana Vokshi (Democratic Party); and Klajda Gjosha (Socialist Movement for Integration and Minister of European Integration). Additionally, female MPs from South-East Europe shared experiences from their parliaments. /ibna/