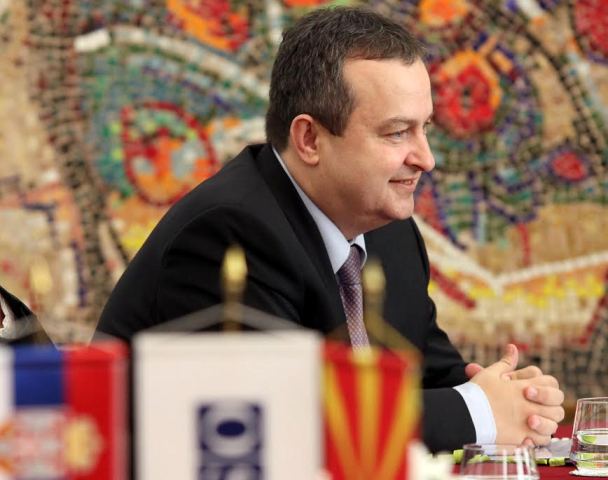 Skopje, February 18, 2015/Independent Balkan News Agency
By Naser Pajaziti
OSCE chairperson in office and Serbia's Foreign Minister, Ivica Dacic promised support for the consolidation of democracy and promotion of reforms during today's visit at the OSCE Mission in Skopje, accompanied by the OSCE High Commissioner for National Minorities, Astrid Thors.
Stressing the engagements of OSCE, Dacic promised support for the improvement of ethnic relations, implementation of the Ohrid Agreement, strengthening of the rule of law and the reforms in different domains backed by the Mission.
The visit also discussed the government's strategy and the precious support that the government offers for the government in relation to the advancement of democratic reforms.
"Serbia knows the value of a mission such as OSCE and the support and advices that it offers for democratic reforms and integration of national minorities in the public life", said Dacic.
According to him, the countries of the region play a role in encouraging mutual cooperation and strengthening ethnic relations in South East Europe.
"The improvement of living conditions in the region is our joint goal. The building of trust for the creation of a positive agenda for the future is the driving principle of Serbia's chairmanship. We must continue to strengthen respect, trust and mutual understanding. Respect of human rights, tolerance and non discrimination remain at the top of our agenda", Dacic said.
During this visit, Dacic met with president George Ivanov, PM Nikola Gruevski, deputy PM Musa Xhaferri, Foreign Minister Nikola Poposki and Minister of Education and Science, Abdilaqim Ademi. OSCE mission in Skopje is the third one visited by Dacic. He plans on visiting all OSCE missions in the West Balkan region. /ibna/