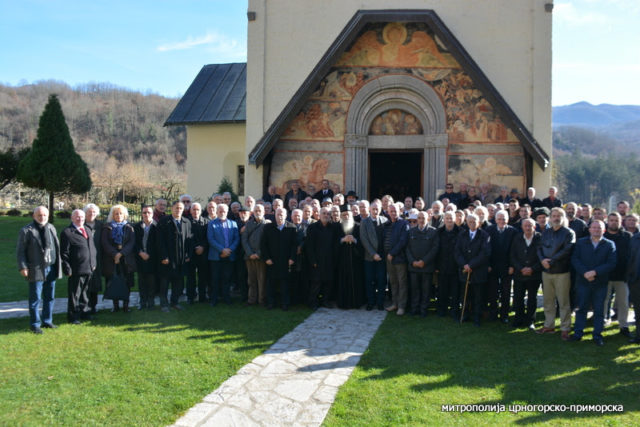 At a solemn session of the Council of People's Assemblies of the Serbian Orthodox People of Montenegro, held at the Morača Monastery on December 15, a binding Declaration was adopted on the non-acceptance of the unilaterally proposed Law on Freedom of Religion, which "prepares the seizure of the shrines of the Serbian Orthodox Church in Montenegro".
The government in Montenegro abolishes the rule of law, destroys the common spiritual and state values and the unique identity of the people. It subordinates the general interest to its private interest, destabilizing relations among the majority of Orthodox people, but also tolerant inter-ethnic relations in Montenegro. This is part of the Declaration adopted in the ancient Nemanjić Lavra, the monastery of Morača.
"The proposed Law on Freedom of Religion, authorities intend to adopt with the help of minority nations of a different faith, who, accepting that in this way, would participate in the enactment of this law, and would show a deep misunderstanding of this complex issue. Therefore, we most kindly beg our fellow citizens, Roman Catholics and Muslims not to accept such a law, because such a law cannot be passed without the consensus of all stakeholders".
In order to preserve the foundations of spiritual and religious identity, it is stated in the Declaration, the National Assembly of the Serbian People in Montenegro will unite all its forces, personal authority, social influence, organizational structure and all other means to "prevent the cursed devotional organization from desecrating centuries-old shrines testament for safekeeping left by our saints and glorious ancestors".
"So God helped us," the Declaration of Representatives of Serbs in Montenegro, who are "on their feet" after the adoption of the draft Law on Freedom of Religion, said in a statement. It is characterized in the Montenegrin-coastal metropolis, but also among believers and in a large part of the Orthodox population, as the law on the abduction of the saints of the SOC./ibna