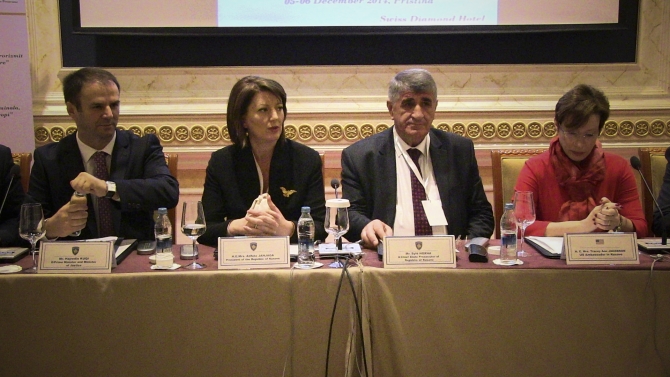 Pristina, December 5, 2014/Independent Balkan News Agency
By Elton Tota
Terrorism and organized crime are global problems and as such, they're risking world peace, therefore in order to successfully fight them, it's necessary to have cross institutional cooperation in a country and in the international arena.
This was said on Friday in the regional conference organized in Pristina by the State Prosecution of Kosovo called "Challenges in fighting organized crime, terrorism and cooperation in Southeast Europe".
Present in this conference, was also the president of Republic, ambassadors accredited in Pristina and government ministers.
The general attorney of Kosovo, Syle Hoxha said that organized crime and terrorism are challenges of the time, which go beyond the borders of our states and threaten peace and security of the rule of law on a global level.
"The activity of these criminal groups mainly targets uneducated people or those who are in a difficult economic situation. In such circumstances, we all have the obligation to urgently take measures", said Hoxha.
Hoxha also talked about the achievements of the Prosecution of Kosovo in the fight against organized crime and terrorism, where he said that 130 people have been investigated on suspicion of terrorism.
"We have achieved concrete results. During 2013, 61 criminal groups were destroyed, while in November 2014, 45 criminal groups who have operated not only in Kosovo, but also in other countries".
"Special Prosecution of Kosovo is holding investigations against 130 people suspected of terrorism, it has arrested tens of suspects and 36 people have been remanded under custody", said Hoxha.
Meanwhile, the president of Kosovo, Atifete Jahjaga said that radicalism is present throughout the world and as such, it must be fought by everyone.
Jahjaga said that the lack of cooperation between southeastern European countries, has lead to a rise of the number of criminal groups.
"No country is untouchable by radicalism. Then, our fight will be a joint fight. Every failure in this fight will cause our countries to make steps backwards. We need cooperation between the countries, in order for the response against these phenomena to be strong".
Meanwhile, US ambassador, Tracey Ann Jacobson said that the key to fight organized crime and terrorism is regional cooperation.
"Regional cooperation is the key to success in the fight against organized crime. Organized crime doesn't recognize any borders and criminals use these borders for their interests. But, by seizing their assets, we can prevent their activity".
On his part, minister of Justice, Hajredin Kuci said that like all countries, Kosovo too is facing challenges of the fight against organized crime and terrorism, as according to him, the country has the necessary legislation to fight this negative phenomenon.
"We have the necessary legislation to fight these negative phenomena. We have legislation in place against all these things. The government of Kosovo has prepared and sent to parliament the bill on foreign fighters, which strengthens the provisions for the fight against international terrorism", said Kuci. /ibna/