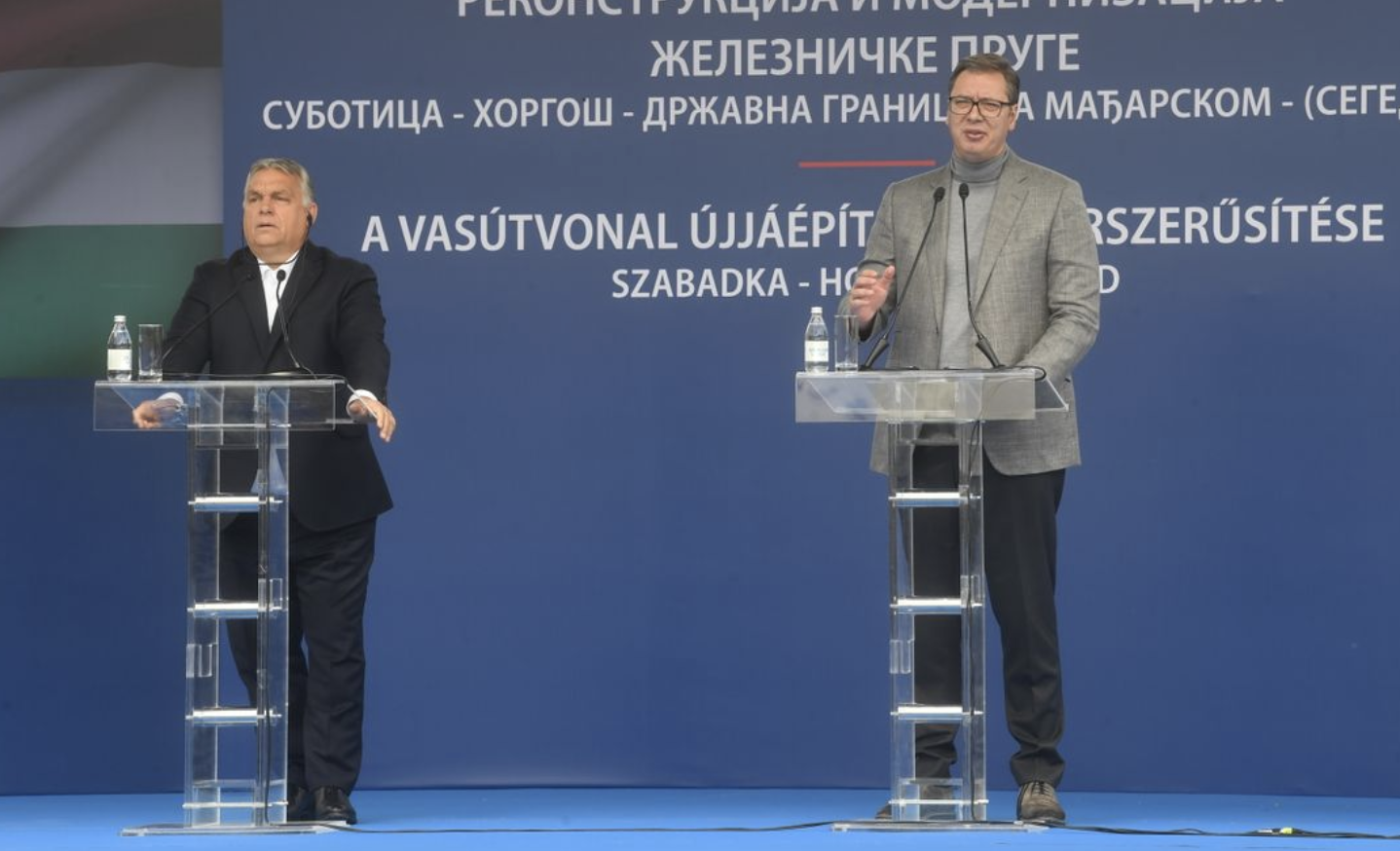 "We are here at the Schengen border, but the external border of the EU should be further south and Serbian citizens should be able to travel freely to Hungary and the EU without passports," Hungarian Prime Minister Viktor Orban said today at the ceremony marking the start of the reconstruction and modernisation of the Subotica -Horgos – Hungary border railway line.
"We have known that Serbia has been ready to join the EU for years, but the question is whether and to whom it will be able to join. I have been supporting Serbia's EU membership for years," Orban said.
He then referred to joint projects with Serbia.
"We are working with President Vučić, we are working on the construction of the line between Budapest and Belgrade and we are also ready to work on the line between Subotica and Baja. We will build this line and you will be able to be in Szeged in 35 minutes. We are working to ensure the simplest possible border crossing," Orban said.
The Serbian President congratulated Orban because, he said, with a lot of courage and the right vision, he has created completely new relations between Hungary and Serbia.
"Dear friend, I am grateful that with a lot of courage and a true vision of political relations between Hungarians and Serbs, you have created conditions for completely new relations in which we, Serbs, believe that a strong and stronger Serbia will mean a strong and stronger Hungary. I am happy and proud to be able to say this today in Horgo. We can do a lot together, together we are many times stronger and more powerful, and everything we build and do shows how much we can achieve better results together. After the completion of this project, the whole region between Szeged and Subotica becomes a development hub for tourism, trade and bringing our cultures and peoples closer together," said President Vučić, adding that the railway will bring great and concrete results, but it also shows us that we are in the centre of Europe. He said that the completion of work on this railway is scheduled for November next year.
"What is more beautiful and important than living in peace and trusting each other? Serbia has learned a lot from the Hungarian experience and is currently considering how to solve energy problems. And we will approach it together, as it happened with gas supply," said President Vučić, stressing that Subotica has a fantastic future. He announced the reconstruction of the hospital in Subotica, which will cost 40 million euros, the 22 million euro stadium and that four million euros will be allocated for the renovation of the theatre.
Hungarian Prime Minister Viktor Orban thanked President Vučić for inviting him to today's event.
"We are in an unusual situation. We want to renovate the 150-year-old railway line and we are actually laying the foundation stone, because this is a symbol. A symbol of cooperation and common progress of Hungary and Serbia, who are building a new, common future. We have an agreement with President Vučić, which guarantees that both Hungarians and Serbs will have the same benefits from this cooperation. The citizens of both cities have lost a lot because it has become impossible to travel on this railway line. The foreign powers have brought us only turmoil and war. All that came from outside led to conflict and delay of both nations. But the time has come to take our destiny into our own hands," Hungarian Prime Minister Orban said, stressing that Serbia is the gateway to the Balkans and a key country for the security of Europe, and that Hungary is committed to Serbia's accession to the European Union./ibna