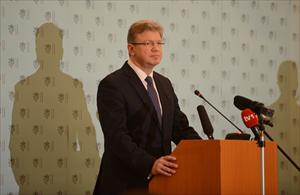 By Medina Malagić – Sarajevo
Early this morning, the leaders of B&H's biggest and most influential political parties ended another round of meetings with EU officials to discuss B&H's unresolved issues whose solutions are conditional on the country's EU accession. This time, the meeting was held in Prague, and it finished at around 4:30 this morning. The meeting began on Monday in the early afternoon.
Unlike at previous meetings, it was announced at the press conference early this morning by EU Commissioner Stefan Fule that some progress has been made that would eventually lead to an agreement in the implementation of the 'Sejdic-Finci' case, and the EU Commission expressed a modicum of optimism.
"After around 16 hours of talks with the leaders of seven main political parties from Bosnia and Herzegovina, I can announce some positive progress. Here in Prague, we continued our consultations on the implementation of the Sejdic-Finci ruling: in particular the election of the Delegates of the House of Peoples and the members of the Presidency.  I am glad that the leaders were able to tentatively agree on the composition and method of the selection of Delegates for the House of Peoples. We have also achieved some important progress on the main principles for the election of the members of the Presidency. Now, it is necessary that the political leaders remain committed and continue their efforts to find the solution on the last remaining element for the election of the Members of the Presidency. Only then Bosnia and Herzegovina can start to move again on its European path. Let me conclude by appreciating the determination of the leaders to continue to look for solutions, which could bring the country back on the European track. I am determined after consultations with the High Representative/Vice-President Catherine Ashton to send our colleagues back to BiH soon, to continue the dialogue with political leaders in the country. And if there is an emerging deal on that remaining element, I can say that we have an understanding about our next meeting and the place of that meeting", said the EU Commissioner for Enlargement Stefan Fule during the press conference.
In addition, Commissioner Fule told TV1 that political leaders have also agreed on the place to hold the next meeting if a final agreement on these issues is reached.
Political leaders from B&H who attended the meeting expressed unusual optimism at the outcome of the meeting, stressing that the outcome of the meeting is a significant step for B&H towards EU integration. However, the President of the RS Milorad Dodik left the meeting earlier and did not attend the subsequent press conference, and two other leaders, Martin Raguž and Mladen Bosić did not join the press conference.