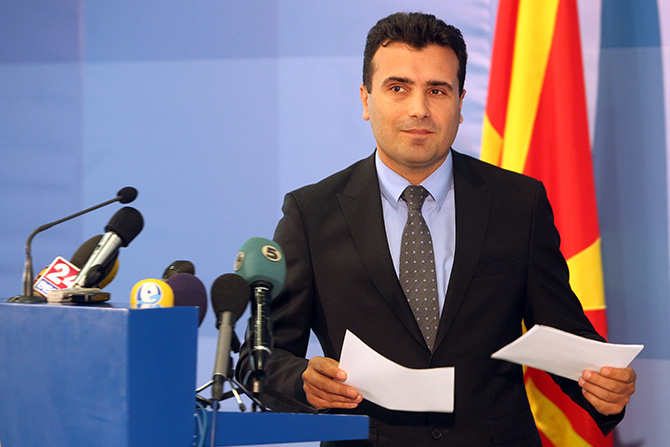 IBNA Special Report
Skopje, November 19, 2014/Independent Balkan News Agency
By Naser Pajaziti
Political scene in FYR Macedonia is being dominated by the warning of the Macedonian opposition leader, Zoran Zaev who has declared that the opposition will announce the so called "bomb" which will force PM Nikola Gruevski to resign within three days.
In spite of these warnings made by Zaev, who leads the largest opposition force LSDM (Macedonian Social Democratic Union), there's still no knowledge about the content of his file against the party in power.
"We have evidence that will force PM Nikola Gruevski to resign in three days once we publish them, while the country will be disgraced because these are sensitive evidence which have to do with cross ethnic relations", declared leader of LSDM. According to him, these are very strong facts which will test the credibility of the opposition.
The largest party in power, VMRO-DPMNE of PM Nikola Gruevski called on the leader of LSDM, Zoran Zaev to make the so called "bomb" against the government public.
"It's been a while now that the opposition of the country has been warning some kind of bomb. These warnings are causing a false atmosphere for the membership of this party. According to them, this 'bomb' will oblige the government to resign in three days, because this has allegedly have to do with cross ethnic relations", says among others VMRO-DPMNE's reaction. This party also says that it's prepared for all possible scenarios.
LSDM has reacted against this statement, by saying that all arguments and evidence will be made public according to the party's strategy.
"We will publish the evidence and arguments based on the strategy of our political action, while the citizens are entitled to know the truth about Gruevski's governance. It's clear that VMRO-DPMNE is nervous, because the citizens are becoming increasingly unhappy with Gruevski's government", LSDM reacted.
Other political parties have not commented the warning of the opposition leader, but this is being discussed among analysts' circles and opinion makers in Skopje.
"The declaration made by Zoran Zaev that he will come out with a 'bomb' against the government, at first glance would have connotation of war for power between Macedonian parties, but the fact that he linked this closely to cross ethnic relations, makes us skeptic of this 'bomb'. What sort of 'bomb' would it be if it overthrows Gruevski's government and ruins cross ethnic relations at the same time? Skeptics have started to think that this bomb relates to the politically orchestrated case of 'Monstra' for which six Albanians, who claim to be innocent, have been sentenced to prison", says analyst Zejd Redzepi.
Analyst and diplomat George Spasov also demands from the opposition leader to publish as soon as possible the facts against the government, because this warning may have other consequences. "Opposition leader Zaev is ready to continue his battle to overthrow the current government. We want to believe that this time, there's really something and it's best if he makes the arguments that he has against the government public", says Spasov.
Citizens who have been asked by IBNA also say that it's best if the leader of the opposition publishes what he's claiming, in order for this issue to be clarified for the public.
Ankica S from Skopje says that Zaev must talk and if there's any truth, then the prime minister and his cabinet must step down. "I believe that what will be published will be in the interest of the citizens and will shed light upon the dark side of this government. I hope that this is not only a warning for daily political conflicts", says Ankica S.
Macedonian opposition continues its tour throughout the country by holding meetings with the citizens. This party continues to boycott parliament following its decision not to recognize parliamentary elections which were held in April of this year. /ibna/