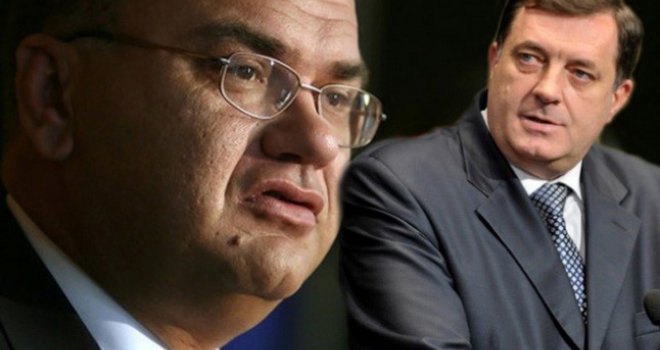 Sarajevo, November 24, 2015/Independent Balkan News Agency
By Mladen Dragojlovic
"Exclusive" information of Russian Sputnik News agency that opposition parties in BiH have a secret plan to eliminate the current RS president and his associates from power in this entity just caused more sparks between two Serb options in BiH.
According to Sputnik, the plan has been instigated by Western countries and include the constant pressure on RS PM, Zeljka Cvijanovic, and RS President; Milorad Dodik. According to the plan, which Sputnik declared having seen, opposition leaders must repeatedly accuse ruling SNSD and coalition partners DNS and SP for criminal acts and incompetence in the conduct of entity economic policy. Culmination of attack, as it was reported, should be managed right after Orthodox Christmas, January 7.
Socialist party (SP) leader, Petar Djokic, said to the media that he knows for that plan and that it is already in the process of implementation. Dodik emphasised that it is a "wider plan for destabilization of RS, not just for his elimination from office".
"There is no destabilisation of RS if you fail to destabilise the Government, and other institutions and authorities as is the RS President", Dodik said.
He added that he doesn't which are Sputnik's sources, but that this report seems like the document he has in his hands. This document, Dodik said, mention other institutions that must be defamed, such as the RS Radio and TV service.
But a day after the information was published, on Tuesday, high ranked opposition Party of democratic progress (PDP) and BiH Minister of foreign affairs, Igor Crnadak, and Russian ambassador in BiH, Petar Ivancov, had a meeting and one of the issues was Sputnik's information. As it was reported from Crnadak's Cabinet, Ivancov informed him that "the opinions in the report are not an official position of Russian Federation". This gave wings to opposition leaders to start the campaign against ruling parties in RS, accusing them for this report.
PDP leader and Serb member of BiH Presidency, Mladen Ivanic, said that Sputnik's report and the "plan about Dodik's elimination is the most stupid thing" he ever heard.
"This comes to show that the ruling parties in RS are scared to speak about criminal activities and it is their attempt to turn every real story about criminal acts into some kind of conspiracy. The author of this text is in Banja Luka and I can imagine who it is, but it is too early to discover his name, Ivanic said and added that nothing in that Sputnik report is true and it should be ignored.