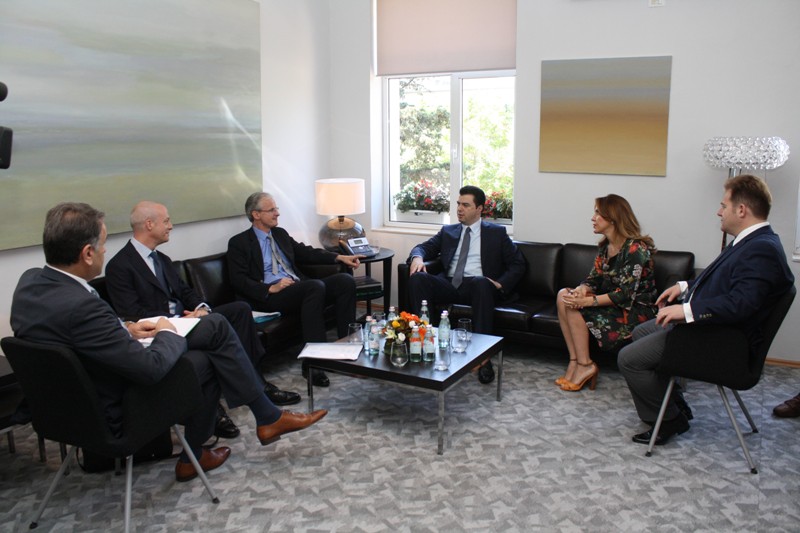 Tirana, May 22, 2014/Independent Balkan News Agency
The general director of Enlargement at the European Commission, Christian Danielsson says that all the concerns that the opposition has about the situation in Albania, "are seriously being taken under consideration".
These comments were made today by Mr. Danielson during a meeting (photo) held in Tirana with the leader of Albanian opposition, Lulzim Basha.
In this meeting, Mr. Basha launched a number of accusations against the majority led by Rama and Meta. "Through their stances, which are against the Constitution and the rule of law and the serious lack of responsibility, they're turning the country into an oasis of crime and international drug traffic", said Mr. Basha.
The head of the opposition also talked about the consensus demanded by the EU on the civil servant act. This act was approved with the votes of all political parties before the June 23 elections. When the left wing came in power, it approved a Normative Act which adjourned the entry into force of the law for another 6 months. This was commented as "a ruined consensus". Opposition addressed to the Constitutional Court. The latter quashed the Normative Act, by saying that it was not based on the law. Nevertheless, the opposition insists that in spite of the quashing of the Normative Act, "the majority has not stopped in its campaign to dismantle public administration and lay off thousands of professional civil servants and their replacement with party militants and in many cases, with highly incriminated individuals".
This claim was also pointed out today to the European Commission senior official.
Danielsson is in Tirana to prepare the assessment report of the Commission for the candidate status of the country in order to present it to the Council in the month of June. In a few weeks, Brussels is expected to decide if Albania will be granted the EU candidate status or refuse it for the fifth time in three years.
The Democratic Party, the main opposition political force, says that a positive decision would without any doubt praise the work and important achievements taken place in Albania even during the 8 years that Democratic Party was in power.
The left wing majority is anxious about the June decision. If the status is refused again like it happened in December, this would be the second "blow" in 6 months given to the current majority by EU. The same thing also happened with the right wing majority, which was refused by Brussels in three occasions. Prime minister's Sali Berisha government justified itself by declaring that the refusal came because the left wing opposition refused to vote the reforms imposed by Brussels as a condition.
In the recent days, the left wing majority has raised suspicions according to which the numerous accusations launched by the opposition about the drug traffic affair where the state is allegedly involved, can have an impact in the decision. /ibna/