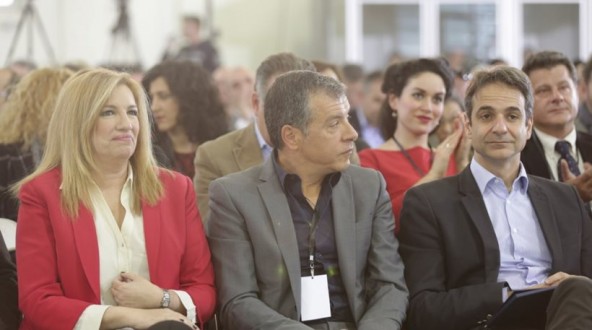 Athens, September 12, 2016/Independent Balkan News Agency
By  Spiros Sideris
Parliamentary parties unanimously denounced the statements of Alexis Tsipras from Thessaloniki, in the context of the established press conference of the Prime Minister to TIF. Among other things, they refer to employees in the television channels that did not get television licenses and launch a personal attack on the prime minister, accusing him of lying, mockery and arrogance.
"'And the lies continue'… is the title of the interview the prime minister", main opposition party New Democracy points out, adding that Alexis Tsipras' still believes he can mock the Greeks". On the same wavelength that the main opposition party has focused its criticism lately (ie with attacks on the issues of economy and television licenses), ND refers among other things to:
the "black" to the channels with the laid of workers and the blow to democracy and pluralism".
the "black on transparency as it refuses to bring the Asset Means Declarations of the Television Channels' owners to the House".
the "black on the life of pensioners, on whom one should inform Mr Tsipras that he axed their pensions".
the "black to all Greeks who are overtaxed, dissolving any fixed point in their lives".
Unleashing a personal attack on the Prime Minister, ND calls Mr Tsipras a "tired Prime Minister of redundancies and of the interweaving, which has been divorced from reality, but remains stuck in his chair… mutant politician, unrepentant in his downward spiral…".
"Be cool … Alexis", PASOK recommends to the Prime Minister. Unleashing (as well) a personal attack, the statement of Trikoupi continues:
The arrogance of weakness betrays your panic. That is why you will not go far. Do not judge the others based on yourself, copilot of the extreme right appendage.
The prime minister "in his usual tactic, continued to shoot logic and call the black white", notes The River. It also points out that Mr Tsipras said "the known crowns for-pimping that has died", however – according to The River – "everybody knows that not only did it not die but is alive and well, with new faces in the place of old, friends and best men of SYRIZANEL".
"Mr Tsipras came face to face in Thessaloniki, with those he leaves unemployed, but had nothing substantial to say to them", also points out the opposition party.
"Even Pinocchio would be envious with the current performance of the prime minister", DIMAR notes, making reference from the cuts to pensioners and the case of ELSTAT to the employees in the television channels.