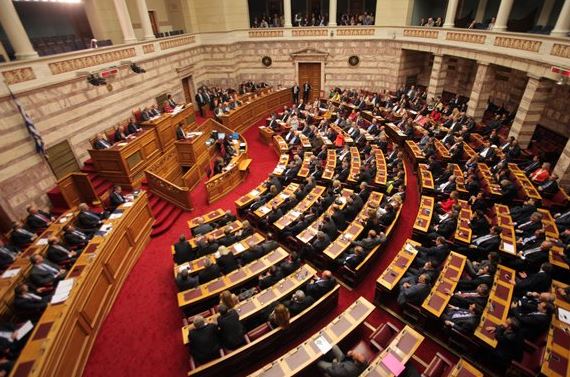 The bill for "small PPC" "passed" from Parliament
By Spiros Sideris – Athens
After an intense debate, the bill for "small PPC", named "creation of a  new integrated electricity company", "passed" late last night with 51 "yes" and 46 "no", with an MP voting "present".
Based on the postings in the discussion that preceded the voting, in favor of the bill were ND and PASOK, with SYRIZA, Independent Greeks (ANEL), Golden Dawn (GD), DIMAR, Greek Communist Party (KKE) and the independent MPs being against it.
Its proposal for a referendum on the voted bill that regulates a serious social issue in accordance with Articles 44 § 2 of the Constitution and 116 of the Rules of the Parliament, submitted the Parliamentary Group of SYRIZA.
The motion has been signed by the 71 of the party's MPs and as mentioned "suggest a referendum in accordance with Article 44 § 2 of the Constitution and 116 of the Rules of the Parliament regarding the voted the bill for 'the Creation of a New Vertically Integrated Electricity Company' that regulates a serious social issue with the question whether Greek citizens approve of the bill".
Earlier their proposals also submitted the "Independent Greeks" (13 plus 1, Mr. N. Nikolopoulos – independent MP), the independent MPs (14), and the Golden Dawn (16 including the incarcerated MPs of the party), while the proposals of DIMAR and KKE are expected. So far the signatures that have been gathered for the proposals of SYRIZA, the Independent Greeks, the independent Mps, and the Golden Dawn are 115 (120 signatures required under the Constitution), and if the parties do not accept to accumulate the voting for their proposals with the proposal of the Golden Dawn, the signatures so far are 99.
DIMAR, which appears determined not to be aggregated with Golden Dawn, has 13 MPs and the KKE has 12. This means that if to the signatures that have been collected up to now one adds the MPs of DIMAR, then the sum of the collected signatures (without the Golden Dawn) is 112, which makes the KKE a determining factor on whether the necessary number of signatures will be achieved.
At present, some estimates on the probability of the President of the Greek Republic, Karolos Papoulias, signing the voted bill for "small PPC" in a hurry, so as for it to be directly published in the "Paper of the Government", which would mean that the parties that have not still done so will no longer have the constitutional right to submit their proposals for a referendum, are characterised by competent parliamentary sources as unimaginable, since there is the preceding process of engrossing and signing the voted bill before it reaches the Presidency of the Republic. The proposals of the parties will be brought to the Meeting of the Presidents of Parliament, which meets at noon on Thursday, July 10, 2014.