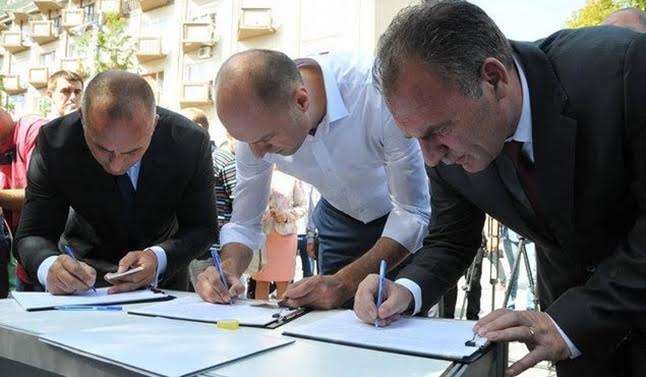 Pristina, 21 September 2015/Independent Balkan News Agency
By Elton Tota
Opposition parties in Kosovo have started a petition which aims at collecting signatures from citizens against the agreements reached in the talks between Pristina and Belgrade in Brussels and the agreement with Montenegro on the border demarcation.
The petition has initially started to be signed in Pristina by opposition leaders Visar Ymeri, leader of Self Determination, Ramush Haradinaj, leader of the Alliance for the Future of Kosovo and leader of the Incentive for Kosovo Party, Fatmir Limaj.
In the first three days, the petition has been signed by more than 40 thousand citizens of Kosovo, IBNA reports.
Leader of Self Determination, Visar Ymeri says that this petition is important, because it expresses the objection against the agreements that Kosovo's government reached with the Serb government in the framework of the talks in Brussels.
"Citizens are expressing their will against the Association and Demarcation. They are showing that they are aware of their will, although the prime minister considers them 'ignorant' and 'uniformed'", Ymeri said.
Leader of the Incentive for Kosovo, Fatmir Limaj says that the petition is an opportunity for citizens to manifest their will, as they have nothing else left to contest the agreements that Kosovo's government is reaching with Serbia.
Meanwhile, Kosovo's PM, Isa Mustafa, said that those people who are signing the petition are uninformed. Meanwhile, as far as the north of Mitrovica is concerned, PM Mustafa has admitted that this part of the country is fully under Serbia's influence.
Prime Minister Mustafa says that the citizens have not read a number of agreements ratified in Brussels before signing this petition. Mustafa has also invited the media to publish the respective documents, as according to him, those who voted the agreements, are objecting to them now.
PM Mustafa has stressed that the association would not take place if Kosovo had integrated Serbs in time and if the northern part of Kosovo had not been divided as it's divided today.
Meanwhile, opposition leaders have not said anything as to how long the collection of signatures in the framework of this petition will last and the mechanisms that will follow.
According to the opposition, the petition will be followed by street protests against the agreements of the government of Kosovo with the Serb government. /ibna/