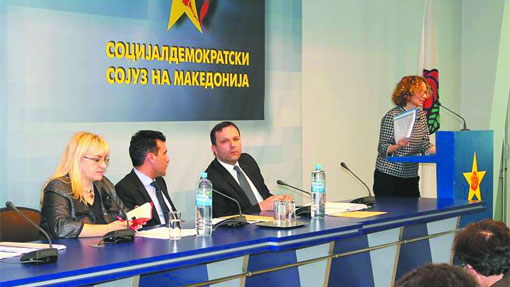 Skopje, April 30, 2014/ Independent Balkan News Agency
By Naser Pajaziti
The steering committee of the largest opposition party, LSDM (Macedonian Social Democratic League) has decided not to accept the MP mandates won in the early parliamentary elections held on Sunday in the former Yugoslav Republic of Macedonia.
Spokesman of this party, Petre Silegov announced this decision during a news conference delivered today. He said that the opposition will not accept the mandates, because it doesn't recognize Sunday's elections. Silegov said that LSDM believes that the elections were rigged by VMRO-DPMNE.
"We decided not to file complaints at the Central Election Commission, because we officially decided not to recognize t he result and the election process. As a party and opposition, before the elections and on election day, we have submitted to the responsible authorities over 170 complaints for irregularities which have not been accepted or nobody has reacted", declared the spokesman of LSDM, Petre Silegov.
In the early parliamentary elections held on April 27, Macedonian opposition won 34 seats, while VMRO-DPMNE of prime minister Nikola Gruevski won 61 seats.
The opposition says that the elections were rigged and demands a technical government which will organize the elections. Meanwhile, until the deadline for the complaints runs out, the two Albanian parties, Democratic Union for Integration (BDI) and the Albanian Democratic Party (PDSH), but GROM party too, have submitted complaints for irregularities on election day in several areas of the country, but also in the Diaspora. The Commission is expected to decide on these complaints and on the possibility of repeating the elections in several areas. /ibna/