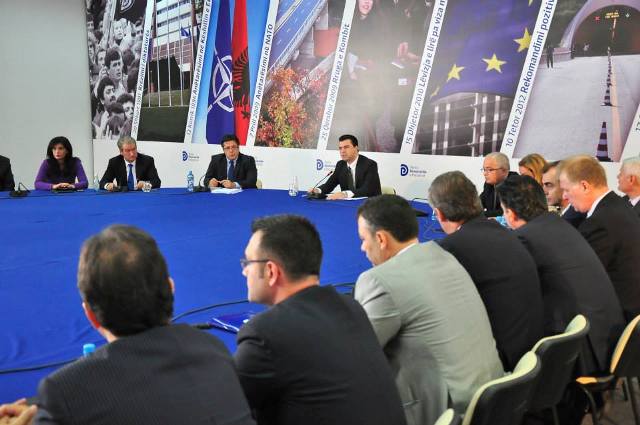 Tirana, November 18, 2013
During today's democrat parliamentary group meeting, leader of this party, Lulzim Basha stopped on the issue of chemical weapons, for which he said that the unified reaction of the citizens led prime minister Rama to renounce from his personal benefit and not to treat the country as private property.
Basha said that the mentality of the prime minister is entirely anti-democratic and that it belongs to the past, but, he said, it received the deserved reply as a great victory of democracy.
The head of the Democratic Party declared that freedom, hope and democratic aspiration united people, regardless of their political convictions.
"I'd like to take this occasion to thank all the young people, all the Albanian people who put an end to the dream of the prime minister for the chemical weapons. I'd like to say today that in the quality of opposition, we were on the right side of democracy, on the side of transparency and the right of the citizens. By concealing truths from Albanian citizens, Edi Rama's scope was to put the country in front of a fact", said Basha.
Basha also said that through his blind tools, Rama is trying to accuse the opposition and free media as anti-American, but added that that there was nothing more American than the protest of the recent days and the positioning of the opposition which didn't allow mockery in parliament.
Basha said that through his arbitrariness, Rama insulted the friendship with a great partner such as USA, but could not damage it, because Albania is and will remain a pro American country.
According to him, after the historical developments of the recent weeks, Albania is not like it was, but has changed for good, as free people will find the right solutions in order to free democracy and rule of law from the economic mob.
The head of DP declared that Albania was honored by its youth, which didn't result like Edi Rama said, "functional illiterate".
Basha concluded with the words, "All the bad that comes from Rama and Meta come from the concept that they have for the vote. In the quality of opposition, we will continue to carry out our constitutional duties, in order to stop the attacks against institutions of the country. We will carry out our duties to take the EU candidate status even further. We will battle with Rama without stopping, because he has been, is and remains a prime minister who doesn't like the rule of law." /ibna/