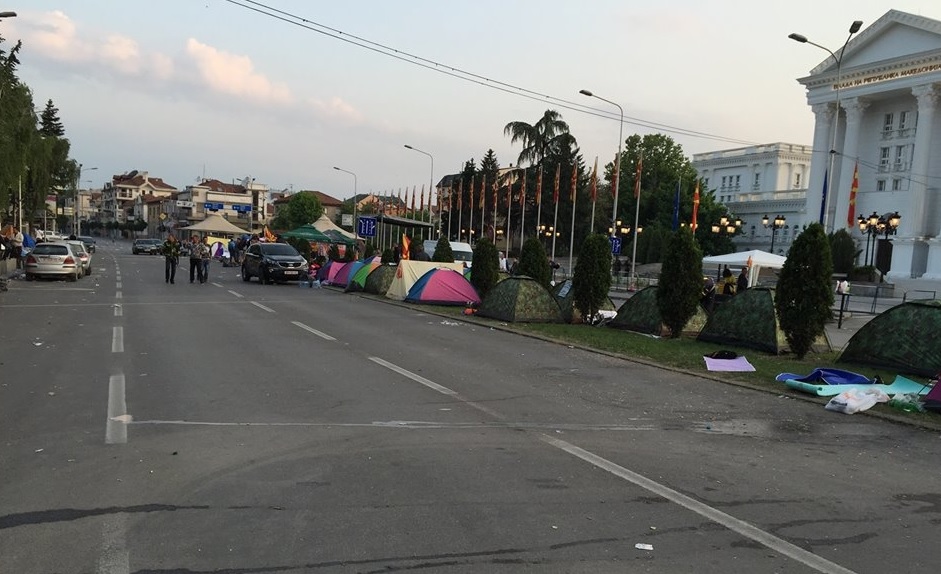 Skopje, 18 May 2015/Independent Balkan News Agency
By Naser Pajaziti
After yesterday's massive protest, representatives of the opposition and its supporters have remained all night in tends which were set up in front of the government building in Skopje. The Macedonian opposition made it clear that the protest will continue and that they would remain there until PM Nikola Gruevski left.
"Whether he likes it or not, Nikola Gruevski must leave. There's no other option to restore freedom and democracy", declared the leader of the Macedonian Social Democratic Union (SDSM), Zoran Zaev, who has remained with protesters under the tents during all night.
Besides opposition supporters, activists of human rights, students and public personalities have also protested all night. Yesterday'a anti-government meeting saw the participation of 100 thousand protesters, while among them there were MEPs and other European personalities that supported the opposition in overthrowing the current government.
Meanwhile, party in power, VMRO-DPMNE will hold a rally this evening in front of parliament.
Representative of this party, Ivica Konevski called upon the citizens to join their protest for a better future in the country.
"Tomorrow's rally will send clear messages: Macedonia is our fatherland that deserves stability, prosperity and a better economic future. This rally will clearly show that the people decides who governments and who remains in opposition through democratic elections", declared Konevski.
The anti government protest of the opposition, which saw the participation of many Albanian citizens, has sparked debates within this ethnic group. A day ago, political parties declared that they were against the participation of Albanians in this protest, while some others kept quiet.
According to Albanian parties, the Macedonian opposition must reveal what it offers for Albanians, in case it wants their support.
Naser Selmani, journalist and chairman of the Association of Journalists in FYROM, said that Zaev must offer a clear platform in case he wants the support of Albanians and not manipulate them.
"With the wisdom of moderated nationalist, Zaev manipulated these Albanians who serve the opposition and several others offering a fake image that Albanians and Macedonians have no other concerns but PM Gruevski. Who will be blamed for this manipulation made to Albanians?", Naser Selmani says.
Leader of VMRO-DPMNE and PM Nikola Gruevski declared last night on the media that a solution must be found for the crisis in the country.
"This solution must be based on the will of the people and the citizens of Macedonia. A solution must be found and it must not be violent and solution there will be. Macedonia will come out of this crisis even more powerful and will move forward even faster than before", Gruevski declared.
Leaders of the four main political parties VMRO-DPMNE, SDSM, BDI and PDSH will continue today the second round of talks which aims at overcoming the political crisis.
These negotiations are being overseen by US ambassador, Jess Baily and the EU ambassador, Aivo Orav.
Last week, the leaders of these parties signed a declaration to cultivate political dialogue and to hold free and democratic elections. /ibna/