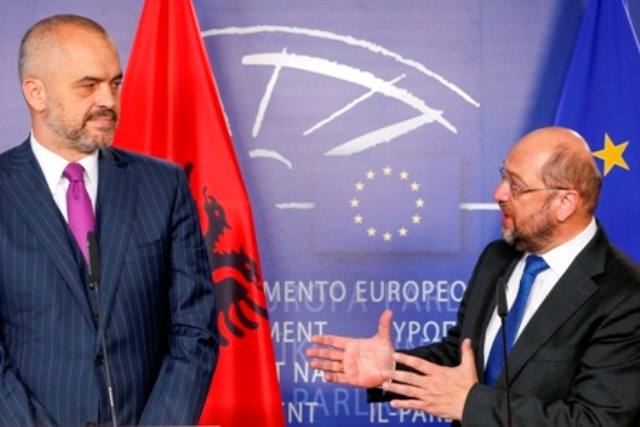 Brussels, December 9, 2014/Independent Balkan News Agency
During his visit to Brussels, Prime Minister Edi Rama has been received by the speaker of the European Parliament, Martin Schultz. In a joint press conference, Schultz declared that parliament is the place where the opposition belongs.
He added that he said the same thing to Mr. Rama when he was in opposition. As far as the process of integration is concerned, he said that EU doors are open for neighboring countries, while adding that European leaders must signal neighboring countries that cooperation continues.
Schultz also said that he will soon visit Albania.
On his part, PM Edi Rama declared that "the opposition is welcome to return to parliament and that its demands have been met".
As far as Schultzs' visit to Albania is concerned, Rama said that the speaker of the Albanian parliament has sent an invitation to him. Rama also said that Albania will continue to be an example in all aspects, such as the rule of law, fight against corruption, modernization, etc.
The head of the government said that "Modernization is a typical way of moving forward and I would like to say that we want to say that we want to intensify relations with the European Parliament in the domain of expertise. We want to seek help and improve parliamentary life". /ibna/