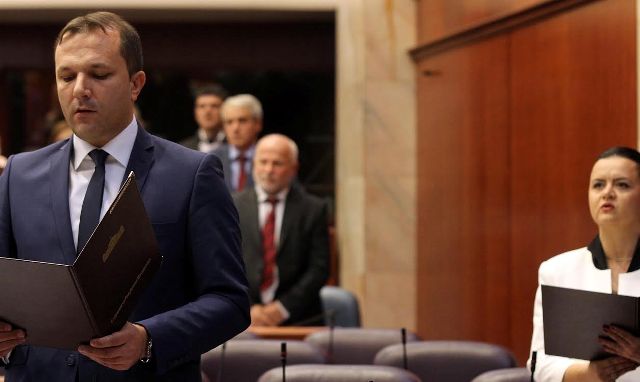 Skopje, 12 November 2015/Independent Balkan News Agency
By Naser Pajaziti
As of today, the government in FYR Macedonia is larger, as ministers from the Macedonian opposition have become part of it. The largest opposition party, SDSM (Social Democratic Union), is part of the government and under the June 2 agreement, its representatives will lead the ministry of Interior, ministry of Social Affairs and they will also occupy the position of deputy minister of Finance and deputy minister of Agriculture.
Under this agreement, the ministers and the deputy ministers that have been appointed, will have the right of vete for many important decisions.
Secretary general of SDSM, Oliver Spasovski has been appointed minister of Interior, one of the key ministries which will be held by the opposition.
Prime Minister Gruevski invited opposition ministers to put the state's interests above the party's interests.
" I expect new ministers and deputy ministers to focus on the electoral process in compliance with the Skopje agreement. I expect them to be focused in solving the problems of the citizens of the Republic of Macedonia and also be committed and responsible in their duty", Gruevski declared.
The leader of SDSM, Zoran Zaev said that the ministers of his party will monitor the government's performance and will act as a guarantee for the return of freedom in the country.
"The duty of these people is to monitor the entire process and to guarantee your free will. Their presence in the government restores freedom in the country, while on 24 April, we will restore constitutional values to the country", declared the leader of the largest opposition party.
But, PDSH (Albanian Democratic Party), which was not included in the government, accused the other Albanian party, BDI (Democratic Union for Integration), that their ministers and deputy ministers are ignored and they have no right of veto on the decisions of the government.
"For BDI, the fact that today, they legitimize an extreme discrimination, is a catastrophe. The fact that they accepted for their vice ministers not to have the right of veto, shows the point where they have brought Albanians of Macedonia", PDSH lawmaker, Imer Aliu declared.
But, BDI reacted by declaring that BDI is not the only party which doesn't have the right of veto.
"It's not at all true that BDI alone is denied the right of veto. There will be five deputy ministers that will be denied the right of veto and 3 of them belong to VMRO-DPMNE", said BDI lawmaker, Artan Grubi.
Meanwhile, independent MPs have criticized the way the agreement was reached and say that they are skeptic about the government's success.
The current government will remain in office until 24 April 2016, but under the political agreement, current PM and leader of VMRO-DPMNE, Nikola Gruevski will resign to be replaced by a prime minister who will be proposed by the largest party in power, VMRO-DPMNE. /ibna/