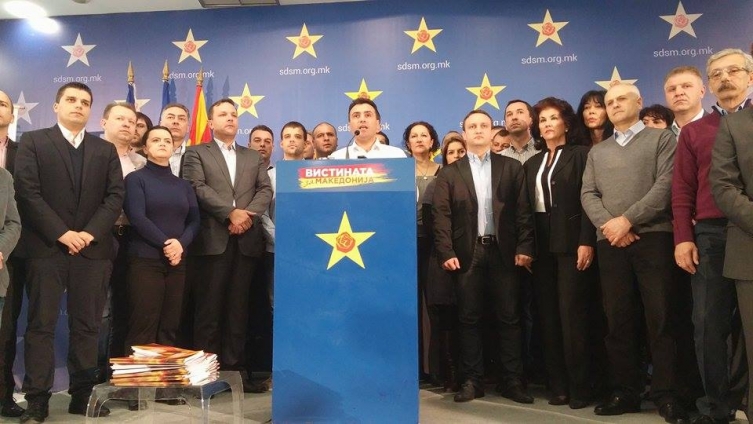 Skopje, March 6, 2015/Independent Balkan News Agency
By Naser Pajaziti
Leader of opposition, Zoran Zaev published today fresh materials relating to the wiretapping of current government officials, in relation to scandals and scenarios for the manipulation of the last election.
Zaev said that these conversations show how elections have been manipulated by the party in power, VMRO-DPMNE.
"These conversations show how elections were manipulated, starting with the forgery of documents, pressure toward state administration, private companies, farmers, teachers and so on", declared Zoran Zaev, leader of the Macedonian Social Democratic  Union (SDSM).
In the news conference delivered today, Zaev has published a large number of conversations, starting with those of the prime minister and leader of VMRO-DPMNE, Nikola Gruevski with his ministers, conversations of the minister of Interior, Gordana Jankulovska and other state ministers, including conversations with pro government media owners.
One of the conversations show how the minister of Interior demands more attention for the Roma community of Kumanovo,  because, according to her, this community is under the control of Macedonian opposition. The conversations also show how minister of Transport and Telecommunications orders for a mobile phone belonging to opposition party SDSM to be cut off from the signal.
Opposition leader Zaev said that these materials are a proof of the criminal way that this government is ruling the country and he warned that he will continue with the publication of other materials of scandals and electoral fraud. "We will continue to publish other materials which are outrageous and which prove the criminal behavior of this government", Zaev said, warning another press conference on Tuesday to publish some other conversations relating to election fraud. /ibna/