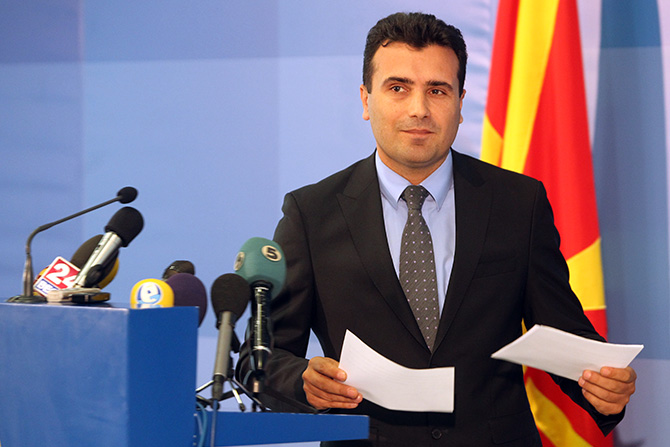 Skopje, February 9, 2015/Independent Balkan News Agency
By Naser Pajaziti
Macedonian opposition has published the first materials of the so called 'bombs' which include evidence and eavesdropping of the current government led by PM Nikola Gruevski.
Leader of the Macedonian Social Democratic Union (LSDM), Zoran Zaev said that PM Nikola Gruevski and head of secret services, Saso Mijalkov, had ordered the eavesdropping of over 20 thousand citizens. "Everyone has been eavesdropped, public personalities, politicians and opposition leaders, ministers and collaborators of Gruevski and Mijalkov, journalists, business people, religious clerics, public personalities, academics and many citizens. This is a monster process of the duo Gruevski-Mijalkov", declared Zaev.
"All this evidence and material shows that our country is divided into two sides, on one side is Gruevski and Mijalkov and on the other one, the citizens", said Gruevski.
Zaev said that LSDM will press charges against the head of secret services, Saso Mijalkov and Goran Gruevski, employed in this institution. Zaev added that these services have eavesdropped 300 conversations made by him with representatives of the opposition.
He said that the Directorate of Security and Counterintelligence has turned into a monster that controls and eavesdrops 20 thousand citizens, opposition members, journalists, business people, MPs. "With this, they have penetrated our private life. Our aim is to make this public for all the citizens", said Zaev.
He called on the international community to carefully follow everything that is published, while demanding from prosecution to launch inquires.
In this news conference, Zaev said that he's publishing only a part of registrations involving his conversations with family members, collaborators and journalists. Then, he published a conversation between the minister of Interior, Gordana Jankulovska and deputy PM, Zoran Stavrevski. Zaev also published phone eavesdropping of Albanian parties and Macedonian opposition. The Macedonian opposition leader declared that in the days to come, he will publish other materials that incriminate the state in scandals. /ibna/