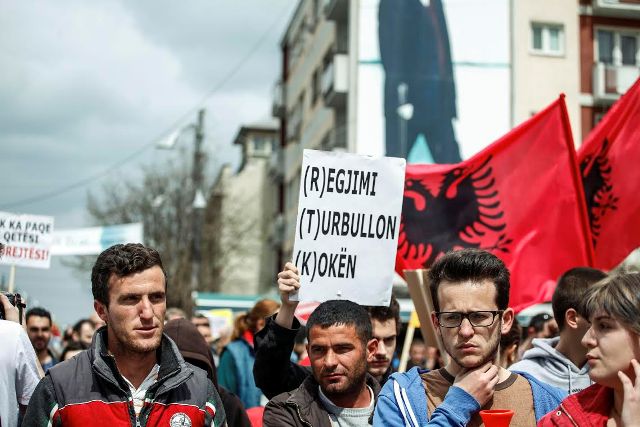 Pristina, 6 May 2015/Independent Balkan News Agency
By Elton Tota
Three opposition parties, Self Determination, Alliance for the Future of Kosovo and Incentive for Kosovo have warned consecutive protests during this month against the government.
Representatives of the opposition say that their demands, which are addressed to the government are against the Special Tribunal, against the Association of Serb Communes, high price of electricity, the control of power at the Radio and Television of Kosovo and against the usurpation of the justice system.
Experts of political and security affairs do not exclude the possibility of escalation to protests, which can cause unrest in the country.
Analyst of security issues, Nuredin Ibishi told IBNA that opposition in Kosovo may abuse with protests in order to overthrow the current government and to seize power.
"Although protests are a democratic expression of discontent and their justified social demands, I believe that in this difficult economic situation and the gloomy situation of many categories, the solution of which requires time, the opposition can politically use them and abuse with them, by bringing a situation which cannot be controlled by anyone, even by those who organize it. So, this can lead to situations of unrest in the country, with serious acts against public security and the state, giving an opportunity to many criminal groups, to the religious extremist ones and especially the Serb illegal structures in the north and elsewhere", Nuredini says.
Expert of security affairs, Ramadan Qehaja says that the protests that have been warned may pose a threat for the stability in Kosovo.
"Our politicians and all of those who want protests, must first of all think of the security of Kosovo. The destabilization of the situation in Kosovo would be fatal for the security of our country in the security aspect", Qehaja said.
He demanded for the opposition not to use the protest for political purposes, because according to him, Kosovo has problems of different natures. According to him foreign secret services, especially the Serb secret services, is working to destabilize the security situation in Kosovo.
Meanwhile, opposition and majority continue to have different opinions in relation to the protests.
PM Isa Mustafa recognizes the right for protests, strikes and other forms of expressing discontent, but he doesn't seem them as a solution. He believes that the causes must be examined in order to seek solutions.
On the other hand, representatives of the opposition say that protests are the only way to take the processes in the right track, as they see the state as "captured" by structures of the parties in power, PDK and LDK.
According to them, opposition protests may bring positive developments in the country if they have a strong support from the population. /ibna/