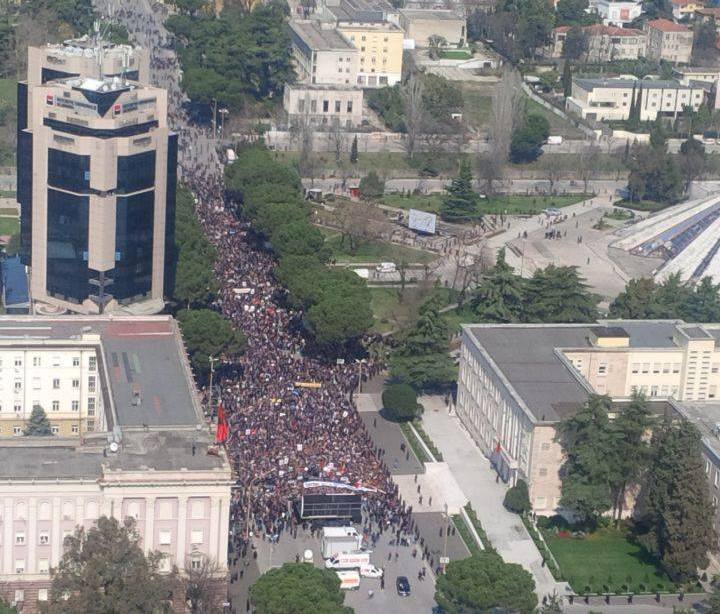 Tirana, March 12, 2015/Independent Balkan News Agency
Albanian opposition gathered today before noon a significant number of supporters, in an effort to oblige the government to withdraw.
Leader of opposition, Lulzim Basha called on PM Edi Rama and speaker of Parliament, Ilir Meta to resign. He launched this appeal in front of the Council of Ministers and Parliament's central offices.
"The lives of two MPs have been bargained in the office of the Interior minister. We demand to Ilir Meta to resign and go", Basha said.
Basha's request comes after a majority MP published a video and pressed charges against the speaker of Parliament.  He accuses him of contracting his murder and the murder of the opposition MP, Mhill Fufi.
In the speech held in front of protesters, Mr. Basha also gave arguments for the removal of Rama and Meta.
Basha also praised the significant number of protesters participating in this rally. "Albania saw and the entire world saw that the image of the unification of Albanians today shut parliament down and removed Ilir Meta from the post of Speaker of Parliament. Look how Albanians have been united".
Basha demanded from PM Edi Rama "to press charges against the Interior minister for not revealing this unprecedented denouncement".
Basha said that "Rama-Meta will confront the opposition along with the citizens, until the country is freed from crime and until justice is made".
He warned that protests will not stop until justice is made. "With the unification of Albanians in this boulevard like never before and on behalf of thousands of others who are not here today, but who share the same concerns and dreams for European Albania, we tell them that we will be here until justice is made", Basha said.
The protest continued for around 45 minutes and then, protesters dispersed quietly. /ibna/