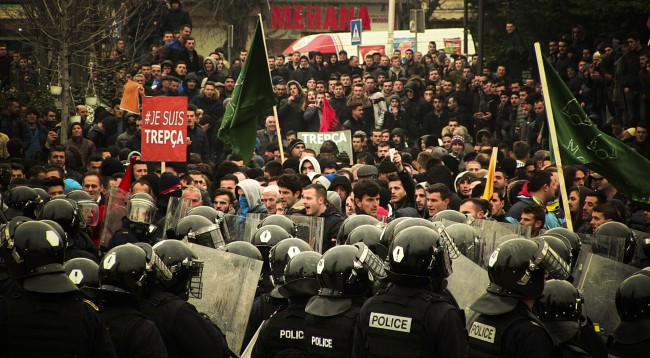 IBNA Special Report
Pristina, April 17, 2015/Independent Balkan News Agency
By Elton Tota
Opposition parties in Kosovo are getting ready for Saturday's protest against the government led by PM Isa Mustafa.
Saturday's protest was called by three opposition parties, Self Determination, AAK and Incentive under the motto "Against the capturing of the state".
Former leader of Self Determination, Albin Kurti, says that the April 18 protest and other protests which will be held, will bring positive movements for the country.
Kurti is based on the two previous protests on 24 and 27 January which pushed PM Isa Mustafa to remove minister Aleksandar Jablanovic from his cabinet.
He's expecting the April 18 protest to oblige Mustafa to remove another minister, that of Justice, Hajredin Kuci and also force the resignation of the chief judge of the Constitutional Court, Enver Hasani.
"The protests held on 24 and 27 January have showed that protests yield results. They used to tell us that it was impossible to remove Jablanovic, but it was done. Now they're telling us that Enver Hasani, Hajredin Kuci and the management of the public TV network cannot leave because it will be a collapse. No, it will not be a collapse, but it will be relief from the regime", Kurti said.
Kurti said that no permit has been taken for this protest, while calling on police not to impose barriers for protesters.
"I cannot seek permission for something which is guaranteed to me by the Universal Declaration of Human Rights. I have protested for 18 years and I have never sought permission", Kurti said.
Meanwhile, Foreign Minister Thaci had declared that that this protest is expected to be violent.
Kurti replied to Thaci's declarations.
"Instead of behaving like the Foreign Minister of a democratic state, Thaci is behaving like an Interior Minister of a dictatorship country", Kurti said.
Leader of Incentive for Kosovo, Fatmir Limaj says that Saturday's protest will be peaceful, while commenting Thaci's declarations for violent protests.
"The government is warning violent protests. I don't know if the government is holding the protests or us. Our protest will be peaceful. We distance ourselves from every act of violence of provocation", Limaj said.
"There are one million reasons to protest and each has his own motives. In this country, it's difficult not to find a reason to protest", said the leader of Incentive for Kosovo.
Meanwhile, PM Isa Mustafa has reiterated his declaration that the problems that Kosovo faces must be solved within institutions and not on the street.
"I express my conviction that the current problems that exist in Kosovo must be solved within the institutions of Kosovo", said Mustafa.
US advice to protesters: Do not resort to violence
US ambassador to Kosovo, Tracey Ann Jacobson advised protesters not to use violence on Saturday's protest, but address their issues.
"On Saturday, protesters must think about the image of Kosovo and not only about their demands. There's no need for violent protests. This doesn't serve Kosovo's interests to move forward and it's not good for its image and to attract foreign investments. On Saturday, we're expecting a peaceful protest", said Jacobson.
Commenting the protests organized by the opposition in January, Jacobson said that police has the duty of protecting the citizens. She said that police made mistakes during those protests.
"In those protests, there were damages of state and private property. Police has the duty to protect the population. I believe that there have been mistakes by police, but he who throws the stone first, he is responsible. I expect police to have its role and protect the population. I expect protesters to focus on issues that they want to address and not on violence. Violence does not lead anywhere", Jacobson said. /ibna/