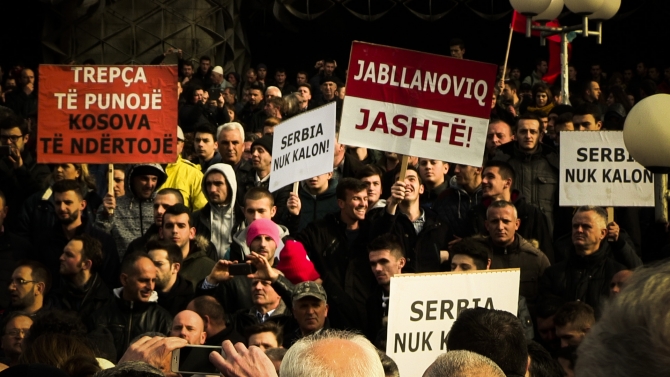 IBNA Special Report
Pristina, January 26, 2015/Independent Balkan News Agency
By Elton Tota
The government of Kosovo has been given an ultimatum until 4 pm today to respond to the demand issued by protesters for the removal of the minister for Communities and Returns, Aleksandar Jablanovic and return to parliament that makes "Trepca" a public enterprise.
This ultimatum was issued on Saturday at the end of the protest held by Self Determination and "Mothers' Calls" organization, but which was also backed by other opposition parties.
If the minister is not removed and the law doesn't return to parliament, the opposition has warned that it will continue with protests on Tuesday.
Kosovo's PM, Isa Mustafa said that it were the votes of the Serbs in the June 8 elections of last year that brought in power the Serb List and Aleksandar Jablanovic, for the removal of which a protest was held on Saturday in Pristina.
While there are only a few hours remaining until the expiry of the ultimatum imposed by Albin Kurti of Self Determination for the removal of the minister, Mustafa said that almost all Serb majority communes in Kosovo are governed by people from the Serb list.
"It was not me who brought the Serb List and minister Jablanovic. I found them here. They were brought by the divided north, by the votes of the Serb citizen, by dialogue. The reality is that they lead almost all the Serb majority communes in Kosovo and they have 10 seats in parliament", said PM Mustafa.
Mustafa said that some of them who are against the Serb List today, backed the reserved seats in parliament.
"LDK and I backed the idea that there could no longer be reserved seats; all the others besides Self Determination, used to treat it as an auction, as to who could benefit the most", said Mustafa.
But, according to Mustafa, his government ally, Hashim Thaci from PDK, has been more mature in this issue, while saying that Ramush Haradinaj and Behgjet Pacolli were "magnanimous".
"I'd like to say that Thaci was mature, because he used to say that he backed reserved seats because he was in a coalition with minorities, but he didn't offer any guarantees that all his MPs would vote and this could not be achieved without LDK, while Haradinaj and Pacolli were magnanimous", said Mustafa.
Mustafa says that Jablanovic is not the biggest problem that Kosovo has. He has not yet said whether he will be dismissed or not.
The ultimatum given to PM Isa Mustafa on Saturday's protest for the removal of the minister for Returns and Communities, Aleksandar Jablanovic, is not being seen as serious by political analysts.
Head of "Speak" movement, Petrit Zogaj, says that the ultimatum was not a scenario prepared before the protest.
Zogaj says that in spite of the ultimatum and pressure for the dismissal of Jablanovic, Isa Mustafa will not do such thing.
Meanwhile, analyst Arben Ahmeti has claimed that the declarations issued by minister Jablanovic are just a pretext and that this is not the only reason for the protest. He said that the opposition in Kosovo doesn't even know what to make of protests. /ibna/