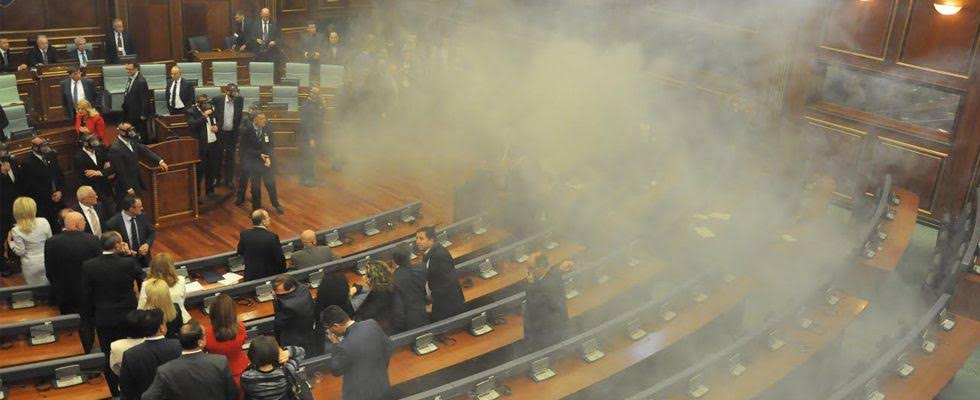 Pristina, 26 February 2016/Independent Balkan News Agency
By Elton Tota
Opposition in Kosovo has once again let off teargas in today's session for the election of the new president. Meanwhile, outside of the parliament's building there are great numbers of police forces who are containing opposition protesters.
Before the political action of the opposition MPs, MPs of all political parties have discussed about the figure of the nominated president, leader of PDK, Hashim Thaci.
The head of the PDK parliamentary group, Adem Grabovci said that the presidential nominee is the most voted person in Kosovo and a key player of many important processes in Kosovo.
Leader of Self Determination, Visar Ymeri spoke on behalf of the parliamentary group of this opposition party.
Ymeri has reiterated the fact that the presidential nominee, Hashim Thaci "has signed an illegal agreement with Serbia".
He said that following consultations with Belgrade, the Serb List has decided to offer its votes to Thaci on "new terms".
"Hashim Thaci cannot become a president without the blessing of the Serb Prime Minister, Aleksandar Vucic", Ymeri said.
"Thaci is becoming president through violations and blackmail", he added.
Meanwhile, leader of Incentive for Kosovo, Fatmir Limaj said that the election of the new president will deepen political crisis in the country.
"Up until today, Kosovo's parliament has not played a role in deepening the crisis. The government of Kosovo has been the one to cause the crisis. Parliament of Kosovo is in front of a great challenge. It has to decide whether to end the crisis or deepen the crisis. If Thaci is elected, I assure you that his election will only deepen the crisis", Limaj said.
Meanwhile, Self Determination, Alliance for the Future of Kosovo and Incentive for Kosovo, have pledged to prevent today's parliamentary session for the election of Hashim Thaci as president of the Republic.
The opposition has started to express its objections since September 2015 by demanding the abrogation of the Association of Serb Communes and that for the demarcation of border with Montenegro. The opposition has also used teargas in parliament in order to prevent every session, by saying that the agreements threaten the territorial integrity of Kosovo. /ibna/