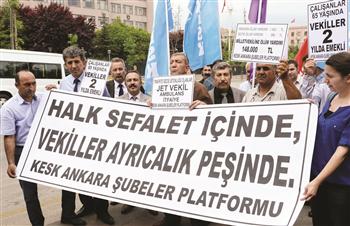 All three opposition parties in Parliament have withdrawn their support from the recently proposed lawmakers' benefits bill amid mounting public pressure, a day after it passed through Parliament's Plan and Budget Commission on May 9.
The main opposition Republican People's Party (CHP), the Nationalist Movement Party (MHP), and the Peace and Democracy Party (BDP) had agreed to support the bill, which is still yet to be debated in Parliament, as it is at the commission stage.
Reaction has been growing against the proposed draft, which grants lawmakers benefits regarding passports, ID cards, health and funeral expenses, social facilities, travel expenses, protocol lineups and traffic immunity and priority. If it passes, every individual who has been elected to Parliament once will enjoy these benefits for life.