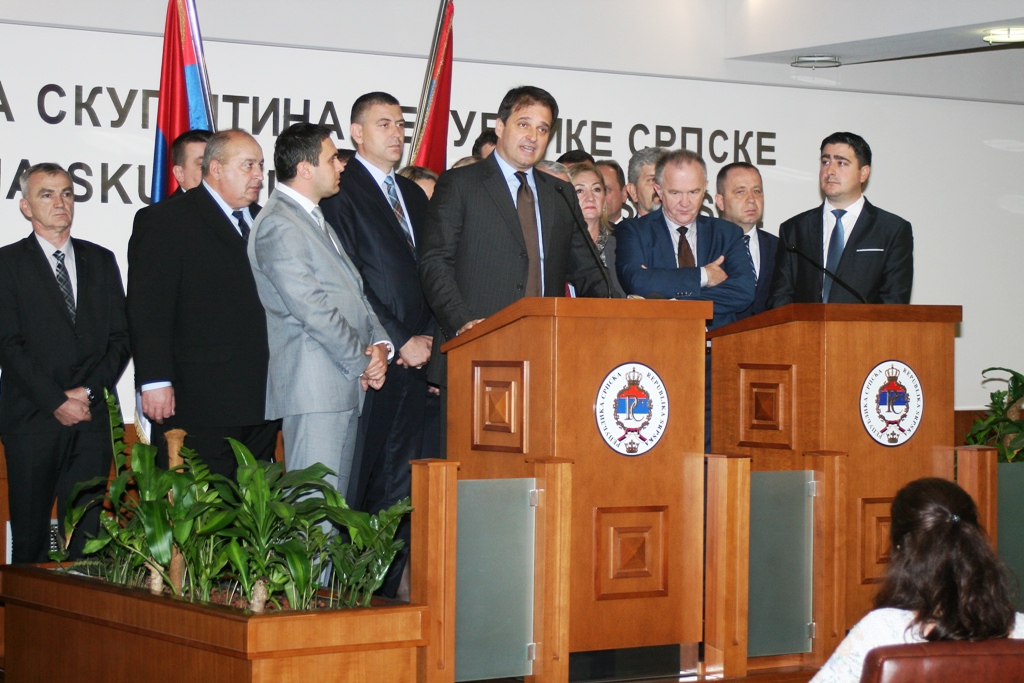 Banja Luka, October 21, 2015/Independent Balkan News Agency
By Mladen Dragojlovic
Opposition parties in RS National Assembly are angry with the ruling coalition SNSD, SP and DNS because of the adoption of the conclusions after 11 special session on entity Parliament, on the "harmful work of representatives of RS in joint BiH institutions".
Representatives of this entity in state institutions are members of Alliance for Changes, a coalition which is in opposition in RSNA. The session begun on Tuesday morning and was concluded on Wednesday, two hours after midnight. The adoption of conclusions by the ruling coalition, which has the absolute majority in RSNA, made the opposition angry, but especially the one which predicts changes in RS Criminal law for those representatives who suggest or adopt any state institutions decision important for RS, without consultation with RS Government or before it is approved by RSNA.
On the joint press conference, on Wednesday, opposition representatives announced that they will undertake "non institutional methods for the fight against regime of ruling SNSD and its president Milorad Dodik", who is also RS President. They pointed out that conclusions are unlawful and unconstitutional and that they represent a "call on political lynch". They didn't however, say what it is that they mean and which methods they will use.
Serb Democratic Party MP in RSNA, Vukota Govedarica, told reporters that opposition parties suggested conclusions which predict the cooperation, better communication and mutual understanding between institutions in RS and its representatives in state institutions.
"The Parliament majority refused our conclusions and is now obvious that we have a regime leaded by Milorad Dodik and nobody else. All others, including the whole of RS Government, are just "errand boys" in Dodik's service", Govedarica said.
The leader of Democratic people's movement, Dragan Cavic, said that these conclusions legalized persecution of those who don't obey the RS Government and that the Government becomes a key authority which, in perspective, should determine who does and who does not work in the interest of RS.
"Very soon we will organize a meeting of Alliance for changes representatives to decide on the non institutional methods with which to fight against this regime", Cavic emphasised.
The main point of discussion on the hours-long session was the so called "transfer of jurisdiction" from RS level on state level institutions. RS ruling coalition MPs consider that entity representatives in state institutions, in last several months, agreed with many decisions on the state level which took away the jurisdiction of RS, which are guaranteed in Dayton peace agreement and BiH constitution. Opposition parties tried to prove that many of them were transferred during the time when SNSD and its coalition partners performed the duties in joint institutions and are now are trying to impute that on present Alliance for changes representatives. The discussion was, at times, very brisk with many insults, on the edge of a bigger incident.