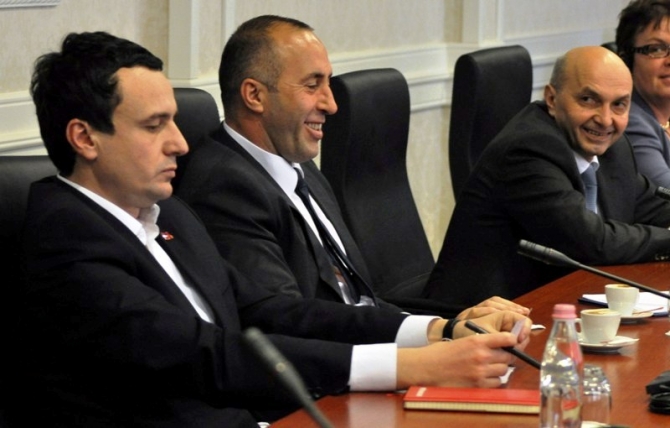 IBNA Special Report
Pristina, June 30, 2014/Independent Balkan News Agency
By Elton Tota
The opposition parties which have signed the joint government agreement, are sure that they have the necessary votes to create the new government. Today (Monday), the three opposition leaders, Isa Mustafa, Ramush Haradinaj and Fatmir Limaj, will assure this if they agree with the conditions imposed by Self Determination of Albin Kurti.
Self Determination organizational secretary, Dardan Molliqaj, has said that Monday's meeting may produce concrete outcomes.
He said that his political party will vote any prime minister nominee if he accepts the conditions imposed by Self Determination.
"We are harmonizing our ideas and I believe that on Monday, we will see the first and perhaps, the final outcomes as to which points we have agreed on and which ones need discussions. So, I believe that we will have a meeting which will offer concrete results.
We don't vote people, but policies. If we agree on the issue of dialogue, privatization and other issues, we will vote any candidate which has been nominated by these three political subjects and we cannot intervene on this part".
Molliqaj said that it's the membership of Self Determination which decides if this political subject will enter the government and this is done through an internal referendum.
"We will continue the third stage of discussions in order to decide the plan of the government to fight crime and corruption, to develop the economy and if we agree to advance with our positioning, then the membership of Self Determination will decide as to whether we will be part of the government or not", said Molliqaj.
"Worried" about the situation in the country as a result of the political rivalry and the possibility of the destabilization of Kosovo because of the situation caused by the opposition block, IBNA learns that western diplomats in Brussels are preparing a scenario for a technical government.
This government will have a clear European agenda, it will finalize the electoral reform, it will start and finalize constitutional amendments, especially in two crucial points: the election of the president and the government.
All these priorities, which are mentioned in the Memorandum of international diplomats, must be fulfilled once Kosovo forms a political sustainable government in the period to come.
One of the scenarios preferred by foreign diplomats is that of the formation of a government which will include all parliamentary groups in Kosovo.
Based on this scenario, political parties will appoint experts and not necessarily political figures, on state posts.
This supposed technical government is expected to lead the government for the next two years, until March 2016. /ibna/