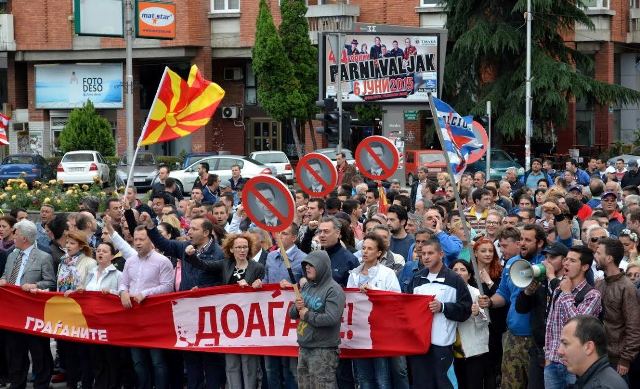 Skopje, 28 May 2015/Independent Balkan News Agency
By Naser Pajaziti
Last evening, Macedonian opposition has marched in a protest from the government building to the Ministry of Finance, demanding the resignation of the government of PM Nikola Gruevski.
"Enough with corruption, we demand resignation", was the slogan of the Macedonian opposition during the march that was supported by thousands of citizens.
Radmila Sekerinska, deputy leader of the largest opposition party, SDSM, declared that the march was held after the publication of fresh registered materials, which indicate cases of corruption and covert affairs of the government.
"We are ready to protest every day to put an end to this corrupt government. Gruevski is the one that decides in this country as to who must open businesses and how much money will end up in his pocket and for his party. Through our protests, we call on his ministers to be aware of the fact that the revolt of the population is growing", Sekerinska declared.
Meanwhile, today's the 12th day that the opposition has set up tents in front of the government to demand its resignation. On the other hand, supporters of the party in power have set up their tents in front of the parliament of the country, to protest against what they call, opposition's scenarios that seek to cause unrest. /ibna/