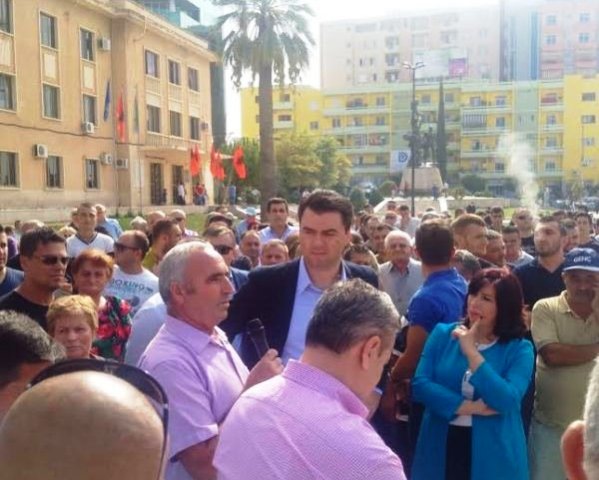 Tirana, 6 October 2015/Independent Balkan News Agency
The leader of the Albanian opposition started today a tour of meetings with citizens throughout the country, in an effort to convince all of those who join a new democrat project to overthrow the left wing government of Prime Minister Edi Rama.
Lulzim Basha was in Lushnja today (photo), where he started the tour of meetings. He spoke with a number of citizens denouncing what he considered as the alliance of April 1, referring to 1 April 2013, when SMI left the right wing coalition and joined the SP. This date is also known as the day of lies.
The leader of the opposition said that the two leaders of the majority, speaker of Parliament, Ilir Meta and PM Edi Rama, have gained hundreds of millions of euros through their clients.
Basha said that the citizens await the arrival of the next day with anxiety, due to unemployment, poverty and insecurity for their life.
The opposition leader denounced what he considered to be the coalition of bargaining, referring to the recent clashes between the left wing majority. Basha alluded that in the recent hours, he managed to bring the coalition with the head of SMI, the second largest party of the left wing majority, back to normality.
One of the questions which the public opinion is asking a lot, especially opposition supporters, is whether the SMI will enter once again a coalition with SMI, as it was the case from 2009 until 2013.
Another dilemma for the citizens is if there will be a coalition between DP and SP, as it's being alluded in the media.
To remove every suspicion, Mr. Basha told the citizens today in Lushnja that the opposition doesn't intend on making political bargains. "Lulzim Basha makes alliances with the citizens. I will never bargain with Edi Rama and Ilir Meta. We're ready for the political cleansing of Tirana from the wastes of April 1", said the leader of the Democratic Party. /ibna/