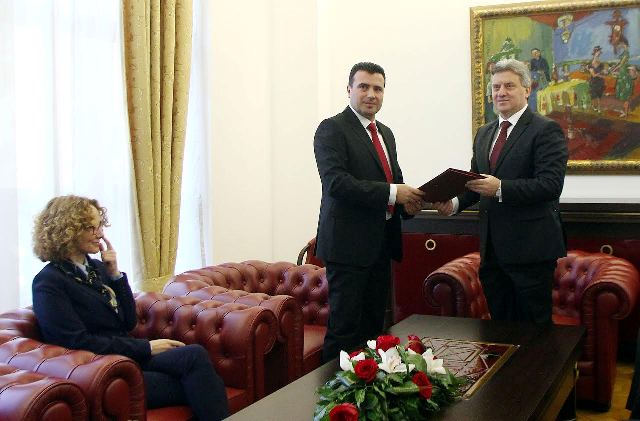 Leader of social democrats in FYROM, Zoran Zaev has delivered to the president of the country, George Ivanov the necessary signatures for the formation of the government. While Nikola Gruevski, who was first mandated for the creation of the government, was not required any signatures, Zaev was required to secure at least 61 signatures. But another condition imposed by Ivanov for Zaev was for the unity of the country to be preserved in the governing program and for reforms to be implemented. The president's cabinet declared that in two days, there will be a response on Zaev's request for the mandate.
The meeting between Ivanov and Zaev has lasted 15 minutes. Zaev says that he is expecting Ivanov to give him a mandate as soon as possible. "I expect to be given a mandate as soon as possible in order to launch talks for the creation of the new government. I would also like to say to citizens and institutions that there will be a smooth transfer of power, which will put an end to the crisis", Zaev said.
The majority that Zaev has secured is constituted by 67 seats out of a total of 120 seats that parliament in FYROM has.49 seats belong to SDSM, 10 seats belong to BDI, 5 seats belong to Besa Movement and three seats belong to Alliance for Albanians. Democratic Party of Albanians (PDSH) with 2 MPs, has not backed Zaev.
Fatos Rushiti, expert on legal affairs, told IBNA that according to the Constitution, if Zaev received the mandate, he has ten days to form the government. "The Constitution says that Zaev has ten days to reach an agreement with other parties as to how ministries will be divided. It remains to be seen how Ivanov will act, because there's a lot of speculation. When he gave the mandate to Gruevski, Ivanov breached the Constitution, because Gruevski didn't have the necessary signatures", Rushiti said.
According to a preliminary agreement that has been made, Albanian parties will be given the post of the speaker of Parliament, the Minister of Foreign Affairs or the Minister of Interior and also important departments such as Police and Customs. /balkaneu.com/