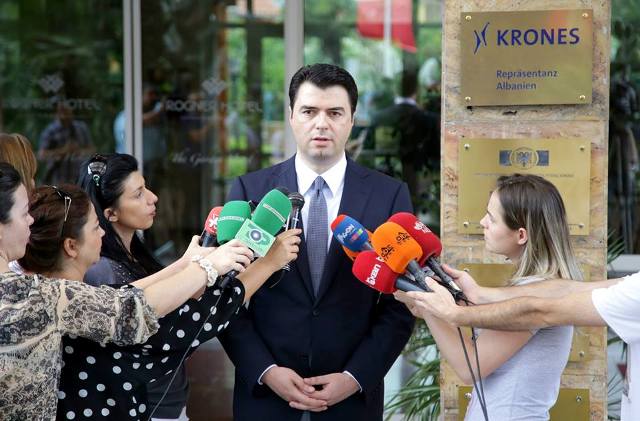 Tirana, July 14, 2014/Independent Balkan News Agency
The leader of the Democratic Party, Lulzim Basha held a meeting with ambassadors accredited in our country.
At the end of the meeting, the head of the opposition said that the meeting discussed the violent episodes seen in parliament and what he called an attempt of the majority to shut the opposition down.
"The introduction of crime in parliament shows the true face of the oligarchic government. We expressed the determination of the Democratic Party to strongly defend the values of democracy, free speech and transparency", said Basha.
Basha said that the meeting also discussed "the challenges that Albanian democracy faces, after Edi Rama created in parliament a structure with incriminating people to shut the opposition down and to degenerate parliament".
The leader of the opposition further said that there are attempts to undo the rule of law, by not applying court rulings, by capturing independent institutions and their intimidation, and not by reforming the justice system and the judicial system.
"The threat against democracy, against the interests of Albanian citizens, against stability has never been greater than now. It's the threat which is also articulated by our biggest partner, USA, other EU officials, the threat that was also articulated by the US Secretary of State, John Kerry concerning the danger of submitting new democracies under the pressure of crime and corruption, operated based on mob like interests", said Basha.
He expressed the determination of the Democratic Party and opposition to stand strong and defend values of democracy, free speech and transparency. /ibna/