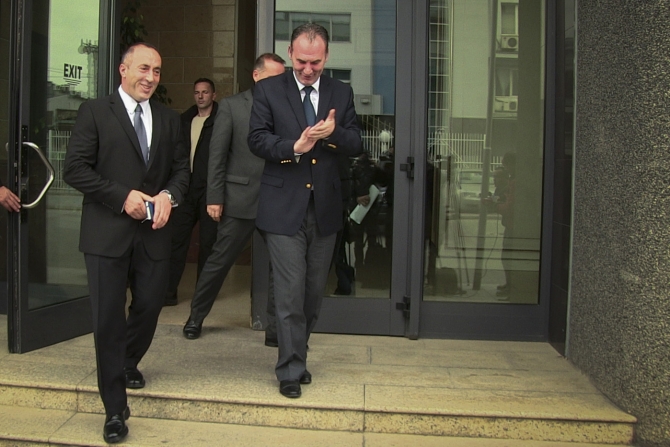 Pristina, October 30, 2014/Independent Balkan News Agency
By Elton Tota
After a meeting which lasted half an hour, opposition leaders Isa Mustafa, Ramush Haradinaj and Fatmir Limaj have not come to an agreement and have not come out with an alternative as to how to resolve the political crisis in Kosovo.
After the meeting, which was held without the presence of the representative of Self Determination, the leader of AAK issued a press statement.
Prime minister nominee, Haradinaj has reiterated before journalists the request sent to Flora Brovina in order for her to call the constitutive session of the parliament of Kosovo.
After the meeting, Haradinaj said that it's absurd that the session is not being called by the temporary speaker of parliament.
Haradinaj said that PDK is entitled to elect the speaker of parliament, but like he said, it doesn't have the numbers for this.
Asked about the opposition's governing program, Haradinaj said that the coalition has the program that the country needs.
The head of AAK has rejected rumors that the meeting discussed a renegotiation of the terms of the agreement, while saying that there will also be a meeting with representatives of Self Determination.
Relations between LDK, AAK and Self Determination have grown "colder" since the leader of the latter, Albin Kurti classified representatives of LDK, AAK and Incentive as "second class thieves" while those of PDK as "first class thieves". /ibna/