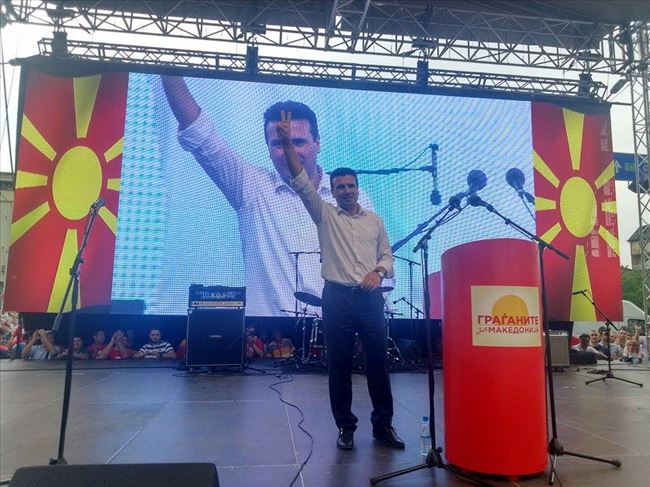 Skopje, 18 May 2015/Independent Balkan News Agency
By Naser Pajaziti
Leader of Macedonian opposition, Zoran Zaev declared from the massive protest held in Skopje on Sunday that PM Nikola Gruevski must step down and that protesters must remain in front of the government until his departure.
"Gruevski must step down and along with him, the entire regime. An interim government must be formed in order to hold the early parliamentary elections", declared Zaev, adding that democracy in the country must be restored.
Commenting the presence of all ethnic communities, especially Albanians in the protest, Zaev underlined that FYROM belongs to all of its citizens and that everyone must be equal.
"This 17 May is historical. It's been 24 years that our country is a state with two societies. As of now, they will be proud of their state. Differences are our asset. The era of patriots has come to an end", declared the leader of the Macedonian opposition.
Zaev also demanded the support of the international community for the solution of the political crisis.
"We have come here and we are not leaving until peace, welfare and dignity of the citizens are restored. Today we are sending a strong message for all communities and we expect the international community to help us not only to monitor the developments, but also to intervene in the police crisis", Zaev declared underlining the need to achieve a political agreement.
The Macedonian opposition leader also mentioned the solution of the name dispute and the commitment to achieve a solution along with the citizens, defending the national identity and state interests. At the end, Zaev declared that the protest will not stop until Gruevski gives way to the solution of the crisis. /ibna/