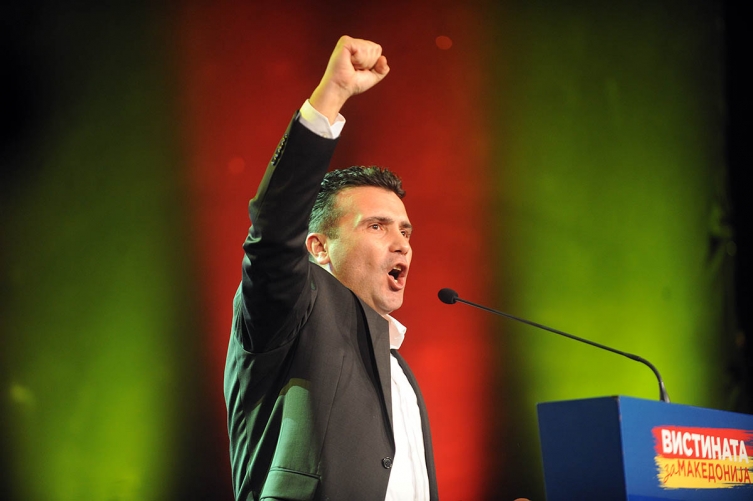 IBNA Special Report
Skopje, March 11, 2015/Independent Balkan News Agency
By Naser Pajaziti
Leader of Macedonian opposition, Zoran Zaev has demanded the resignation of PM Nikola Gruevski and the creation of an interim government which would prepare the early elections in the country.
Zaev launched this appeal during a rally held with citizens in Skopje. During this rally, he published several conversations of the current government leader which unveiled abuses and frauds in the latest parliamentary and local elections in FYR Macedonia.
"I demand the resignation of the government, the general attorney, the board of executives of the public Radio Television and the creation of an interim government without incriminated and corrupted people", said Zaev, the leader of the largest opposition party, Macedonian Social Democratic Union (SDSM).
Zaev also said that alongside the preparations for the new elections, investigations must also be launched on the wiretapping affair, but under the supervision of the international community.
The opposition leader said that this is the only way to bring back freedom in the country, constitutionality and democracy.
The protagonists of the conversations that were made public included the head of Secret Services, Saso Mijilkov, the minister of Transport, Mile Janakievski, minister of Interior, Gordana Jankulovska and other officials of the current government. These conversations unveil the scandals and unlawful activities relating to election fraud, forgery of ID cards, etc.
Party in power, VMRO-DPMNE reacted after this rally, by accusing SDSM and its leader, Zoran Zaev of serving to scenarios which cause instability in the country.
"Zoran Zaev and his people of SDSM want to hold the state to ransom through edited conversations, which have no authenticity at all", said VMRO-DPMNE through this press statement.
VMRO-DPMNE said that it will not allow Zaev to play with the economic stability and the perspective of the country. According to this party, the opposition is attempting to come in power by using different forms.
PM Gruevski's party has rejected the proposal of the Macedonian opposition for resignation and for the formation of the interim government.
Meanwhile, during the time that the opposition rally was taking place, the ministry of Interior declared that it had pressed charges against the opposition leader, Zoran Zaev for corruption in the quality of the mayor of Strumica.
Minister of Interior, Ivo Kotevski said that Zaev is suspected of corruption, after allegedly accepting 200 thousand Euros from a businessman in his commune for the privatization of a plot of land.
Last night's situation has sparked more political tension in FYROM, by provoking debates and accusations between supporters of political parties in social networks. /ibna/