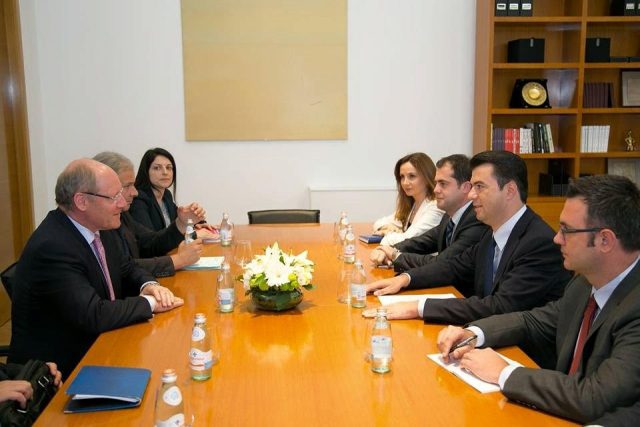 Tirana, 30 June 2015/Independent Balkan News Agency
Leader of the Democratic Party, Lulzim Basha has met with the co-rapporteurs of the Council of Europe Parliamentary Assembly (PA), Mr. Jonathan Evans, Mr. Andrej Hunko, Mr. Bas Klein, vice chairman of the Secretariat of the PA and Mrs. Delphine Freymann, Secretary of the Monitoring Commission of the Council of Europe Parliamentary Assembly.
During this meeting, Mr. Basha said that the June 23 electoral process has put Albania in the list of countries that do not hold free and honest elections.
Basha stopped on the problems with the elections, starting with the fact that "the majority ran people with criminal records for the elections".
"These candidates exerted open pressure against voters, administration employees and used organized crime money to buy votes", the head of the opposition said.
"The elections saw the involvement of gangs which have connections with the government, which have acted as a paramilitary unit to threaten, intimidate and violate candidates, activists and our voters in front of police, which took no measures", Basha said.
For the first time in 25 years of democracy in Albania, Mr. Basha said, an unprecedented, anti-democratic and anti-European case has been marked, that of the threat that the heads of the government launched against voters, that if they voted the opposition, they would be left with no bread or water.
These elections, the opposition leader said, votes have been purchased on a mass scale through corruption and organized crime money. According to him, this is "a fact which has been registered as a concern in official reports issued by international observers".
Leader of the Democratic party, Lulzim Basha stressed that after 25 years, democracy in Albania is seriously attacked, culminating with the destruction of free and honest elections.
"Today Albania is in a bad crossroad, but the Democratic Party is determined to confront this situation in order not to allow any steps backward and to restore democratic standards and rule of law".
In the local government elections, the opposition won 14 out of 61 municipalities, while the governing coalition controls all other municipalities. /ibna/