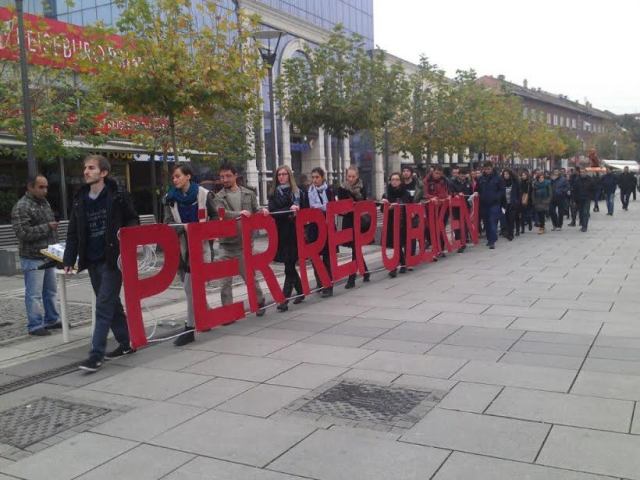 Pristina, 25 November 2015/Independent Balkan News Agency
By Elton Tota
Three opposition parties, Alliance for the Future of Kosovo, Self Determination Party and Incentive for Kosovo along with a group of their supporters, have manifested today in the center of Pristina with a banner which had the words "For the Republic" written on it, in the framework of a symbolic action against the Brussels' agreements.
Fatmire Kollcaku from Self Determination, said that the agreement with Serbia have encouraged the opposition bloc to launch this action.
"Three years ago we gathered in Tirana, this year we must be together in Pristina to protest against the most damaging agreements since the end of the war. We invite all the citizens to join us", said Kollcaku, referring to the opposition manifestation announced to take place on 28 November in Pristina.
Kollcaku said that the public manifestation will be against the agreement on the Association of Serb Communes and against government policies.
But, analysts in Pristina share different insights as far as the manifestation announced by the opposition is concerned.
Analyst Belul Beqaj says that it's not a good thing to use the national day for political purposes.
"The holding of the protest, which some opposition representatives consider a manifestation, is not a good test by the opposition to assess the massive support by the citizens. The national day is a day of celebration for everybody and it would not be good to be considered as support for the opposition", Beqaj says.
But, analyst Nexhmedin Spahiu has a different opinion. He says that the opposition is entitled to protest, regardless of the day that it has chosen for this.
According to him, it remains to be seen who will ruin the protest, the organizers or police.  /ibna/