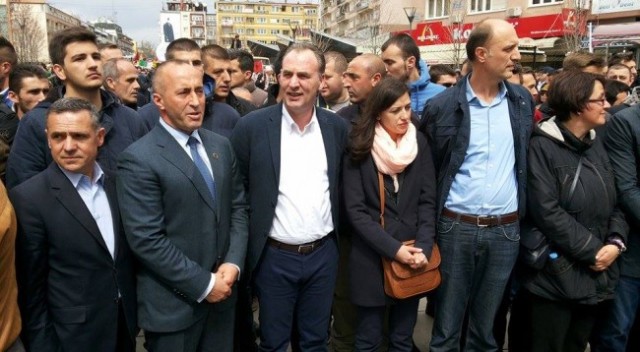 Pristina, 31 August 2015/Independent Balkan News Agency
By Elton Tota
The Brussels Agreement for the Association of Serb Communes and the Agreement for the Border Demarcation with Montenegro has united opposition in Kosovo even more.
Three opposition parties, Self Determination, AAK and Incentive, say that the governing coalition between PDK and LDK has caused great damages to Kosovo, therefore, according to them, the country can only be saved if this government is overthrown.
Head of the Incentive, Fatmir Limaj, says that the latest developments indicate that situation in Kosovo has never been worse since the end of the war.
"A united opposition is the only chance to stop the destruction of our state. With this opposition front, I mean not only opposition parties, but also civil society, intellectuals, students, workers, unemployed people and all of those who want to be engaged in stopping the destruction of their state", Limaj said.
Member of the Steering Committee of Self Determination, Zgjim Hyseni, says that opposition against the foundation of the Association is becoming even greater.
"This front is expanding with the participation of not only opposition parties, but many NGOs and analysts too. This is why there's no need for us to 'ask for support'. The association is no longer an issue of a political party. This is an issue which makes it impossible for our state to be a republic and as a result, this is an issue that concerns all the citizens of Kosovo", he said.
Meanwhile, AAK lawmaker, Time Kadriaj, says that her party is unhappy with the latest developments that have taken place, the Brussels Agreement and the Agreement on the Border Demarcation with Montenegro.
Kadriaj believes that "opposition parties must coordinate in order to stop what is happening to the country".
"In the days to come, we will coordinate with other opposition parties in order to stop what is happening to the country. I believe that cooperation between opposition parties and civil society would be welcomed, but if citizens also join this incentive, then this is a good thing", Kadriaj declared.
Meanwhile, analyst Artan Muhaxhiri says that the current government has failed in all aspects.
According to him, opposition parties may receive support from the citizens and civil society if they come out with a concrete offer.
"It's clear that the situation in Kosovo is unfavorable and there's need for improvements in all domains of life. It's also clear that this government is not able to improve the wellbeing of the citizens and to open new jobs. But the opposition is mistaken if it expects support without a concrete offer", Muhaxhiri declared. /ibna/