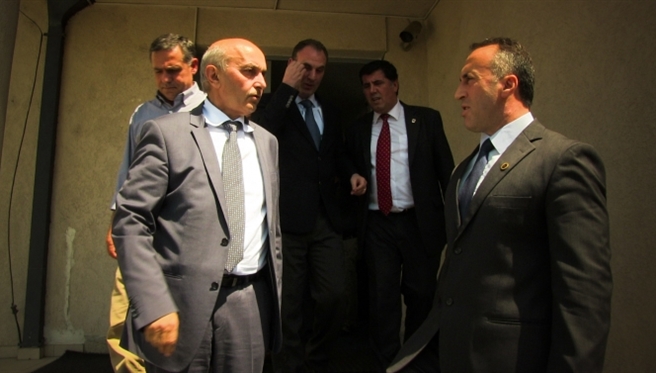 IBNA Special Report
Pristina, July 24, 2014/Independent Balkan News Agency
By Elton Tota
Coalition between LDK, AAK and INCENTIVE considers the decision of the Constitutional Court to suspend the election of the speaker of parliament of Kosovo on July 17, 2014, as a standard measure taken in such cases.
The coalition respects the decision of the Constitutional Court and it expects from it to show professionalism and impartiality in the final ruling.
"Coalition between LDK, AAK and INCENTIVE is convinced that the decision of 83 MPs of the parliament of Kosovo reflects the will of the majority of the people of Kosovo and expects for this will to be recognized by all constitutional institutions. Along with all other partners, the coalition will work to make the institutions of the country functional as soon as possible", reads a press statement issued by LDK.
Meanwhile, Self Determination considers the ruling of the Constitutional Court as problematic.
Self Determination MP, Visar Ymeri declared that its rulings are influenced by politics.
"The Constitutional Court made a mistake and showed that it's  influenced by politics. I cannot judge the final decision", declared Ymeri.
Expert of constitutional issues, Riza Smaka has expected such decision from the court, not to reflect the spirit of the constitution, but its previous ruling on the issue of the government, based on article 95 and 67.
"I was expecting such decision from the court, because there would be no other way, given that it locked itself in a problematic formulation", said prof. Smaka.
Expert of political issues, Halil Matoshi says that the decision of the court was expected.
"This decision was expected, if anything, due to the fact that PDK of Hashim Thaci and Enver Hasani of the Constitutional Court must buy time until September and see what steps they can take. They're expecting the  big opposition coalition to be destroyed and PDK to lure one of these political parties. With this decision, the constitutional time for the establishment of the new institutions stops, meaning that legal deadlines are not exceeded and extraordinary elections are avoided", said he.
Meanwhile, analyst Dren Doli doesn't see this as a final decision of the Constitutional Court as according to him, the final decision of the Court may be entirely in favor of the election of Mustafa. /ibna/