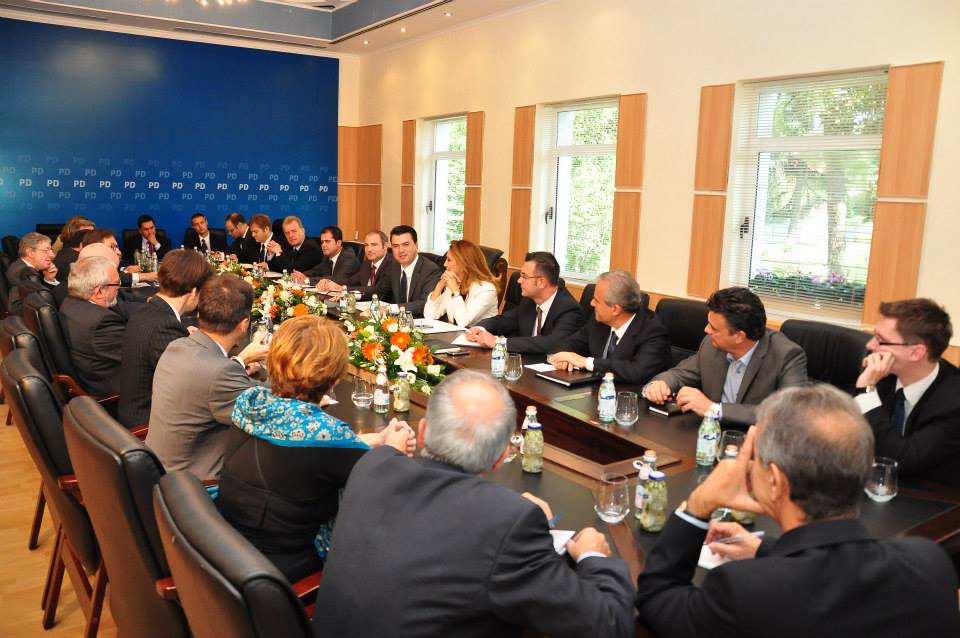 Tirana, February 18, 2014/Independent Balkan News Agency
Leader of the Albanian opposition, Lulzim Basha, in a meeting held today (18.02) with ambassadors of EU member countries, USA and OSCE, said that political consensus between the majority and opposition is being breached, by blaming the left wing government of premier Rama on this.
In the meeting with foreign diplomats, Mr. Basha said that it was the government the one to breach consensus and Constitution. "The latest case of the breach of political consensus relates to the intervention of the government for the funding of political parties", said Basha.
Basha also talked about the legal amendments being made for the administration.
"The incentive of the government at the detriment of the public administration which relates to the delay in publishing the ruling of the Constitutional Court in the official bulletin, according to which it quashes the normative act on the Bill on the Civil Servant, is an unprecedented act", declared Basha.
Basha also criticized the drafting of a new bill on the civil servant by the government. "The government has drafted without showing transparency, a new draft law which consists of 16 articles of anti-reform which weaken the civil servant status and threaten the legal security of the state administration", said Basha.
The leader of the Democratic Party has responded to the concerns of the ambassadors about the situation of law and order in the country, especially about the alarming situation of drug transiting from Albania to the EU, by saying that this comes as a result of the damage caused to the State Police by replacing professionals with militants.
The head of DP informed foreign diplomats that "the opposition will do everything to oblige the government to offer explanations and transparency in front of Albanian citizens". /ibna/