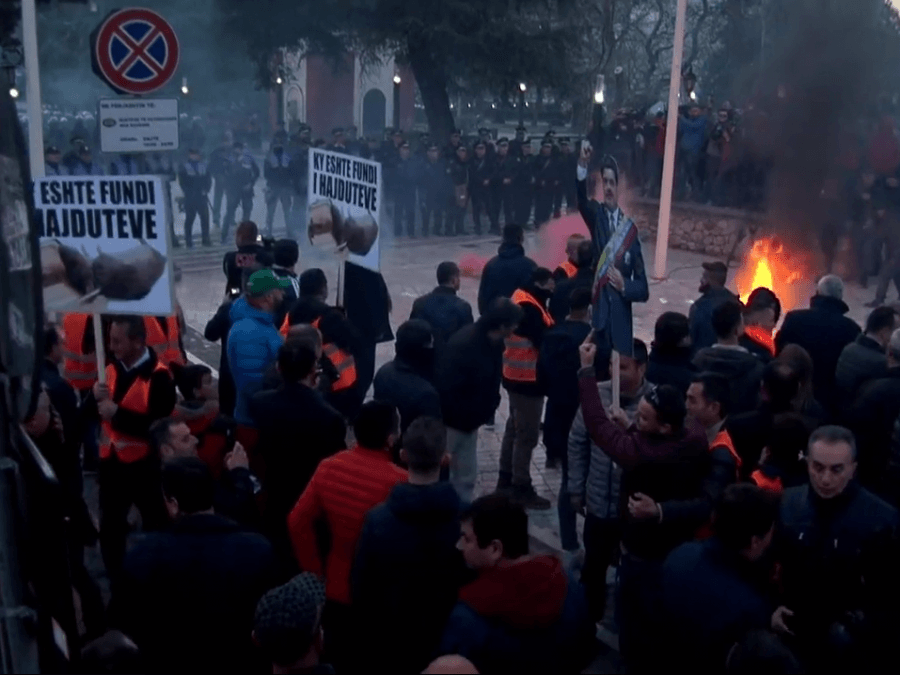 The country's capital city has once again been the scene of a massive protest organized by the opposition. Yesterday, the ruling party decided to convene parliament in a plenary session to avoid the protest that the opposition had announced for Thursday. The situation became tense and escalated in physical clashes between opposition MPs and riot police. Meanwhile, protesters were expecting the plenary session to end. Chaos, fire and teargas accompanied the protest that was held yesterday
***
Yesterday, Albanian parliament convened for the first time after opposition MPs gave their resignation. This plenary session was accompanied by a massive protest that was held outside parliament lasting for several hours. Meanwhile, PM Rama was not present in yesterday's parliamentary sitting.
The start of the protest
By launching slogans such as "Rama leave", thousands of opposition protesters had gathered in front of parliament, while socialist MPs used the side entries to make their way in. On the other hand, police formed a cordon in front of demonstrators. However, tension rose when a government minister was walking past them. It was minister Blendi Klosi's bodyguards who shielded him from the stones that protesters threw at him.
The attempt to enter parliament
It was 6.40 pm when the situation became tense and protesters were pushing police cordon in an attempt to break it. However, police started to use teargas to make protesters leave and police cordon gave way to the intervention of riot police. The teargas that was used managed to disperse the crowd, however they gathered again in front of parliament following the calls that leader of Democratic Party, Lulzim Basha addressed to protesters.
Leader of SMI
On her part, the leader of the Socialist Movement for Integration, Monika Kryemadhi confronted police forces that were present, encouraging protesters who had been dispersed through teargas. She said that nobody should leave the square until this parliament and this government left. "We will not leave", said the leader of SMI.
The end of the protest
After parliament's session ended, the democrat leader, Lulzim Basha announced the end of the protest. Socialist MPs came out of parliament without being attacked by protesters who were outside of it.