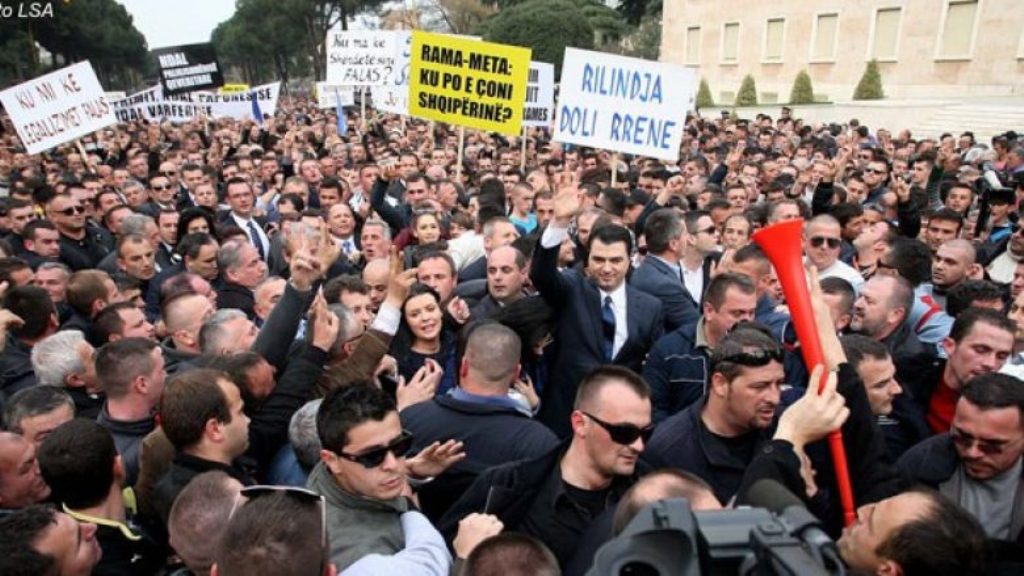 The opposition held a protest yesterday in front of parliament, while the assembly had convened
Opposition in Albania held another protest yesterday in front of parliament. Everything started with tight security measures in this area of the capital and MPs who made their way inside parliament to start their session at 9 am in order to prevent any possible clash with demonstrators.
Afterwards, PM Edi Rama also arrived there along with his security agents. While protesters were gathering in front of Parliament, some of them threw firecrackers in the area around the security perimeter. Meanwhile, Kiri Hajdari, son of late democrat MP, Azem Hajdari, was also seen in the area. Kiri Hajdari is also the brother of the current democrat MP, Rudina Hajdari, who has not abandoned her mandate like her democrat colleagues have done. Meanwhile, the protest continued with opposition representatives addressing the crowd and launching accusations against the government and PM Edi Rama, while chanting anti-government slogans. However, there were no confrontations between protesters and riot police, however, protesters have thrown their placards toward the police cordon in front of Parliament. Meanwhile, they've also burned tires, which caused many flames during the time the protest was being held. Police have also seized batons, firecrackers, placards inside a van filled with without the appropriate paperwork and also a bag of firecrackers near the Democratic Party headquarter.
DECLARATIONS
Opposition leader Basha issues an ultimatum to PM Rama to step down by 16 March
"I would recommend you to leave. 16 March will mark your end!" This was declared yesterday by opposition leader, Lulzim Basha during the protest that opposition held in front of parliament. According to him, Rama's time is up and he needs to leave. "Rama, leave!", he added. According to him, Albania can never be integrated in the EU if Rama continues to be in power. "There can never be European integration through a government involved in criminal acts, there can never be integration with such high levels of corruption", Basha also said. Meanwhile, the opposition leader also spoke of a military regime, referring to the tight security measures that police had taken for this protest.