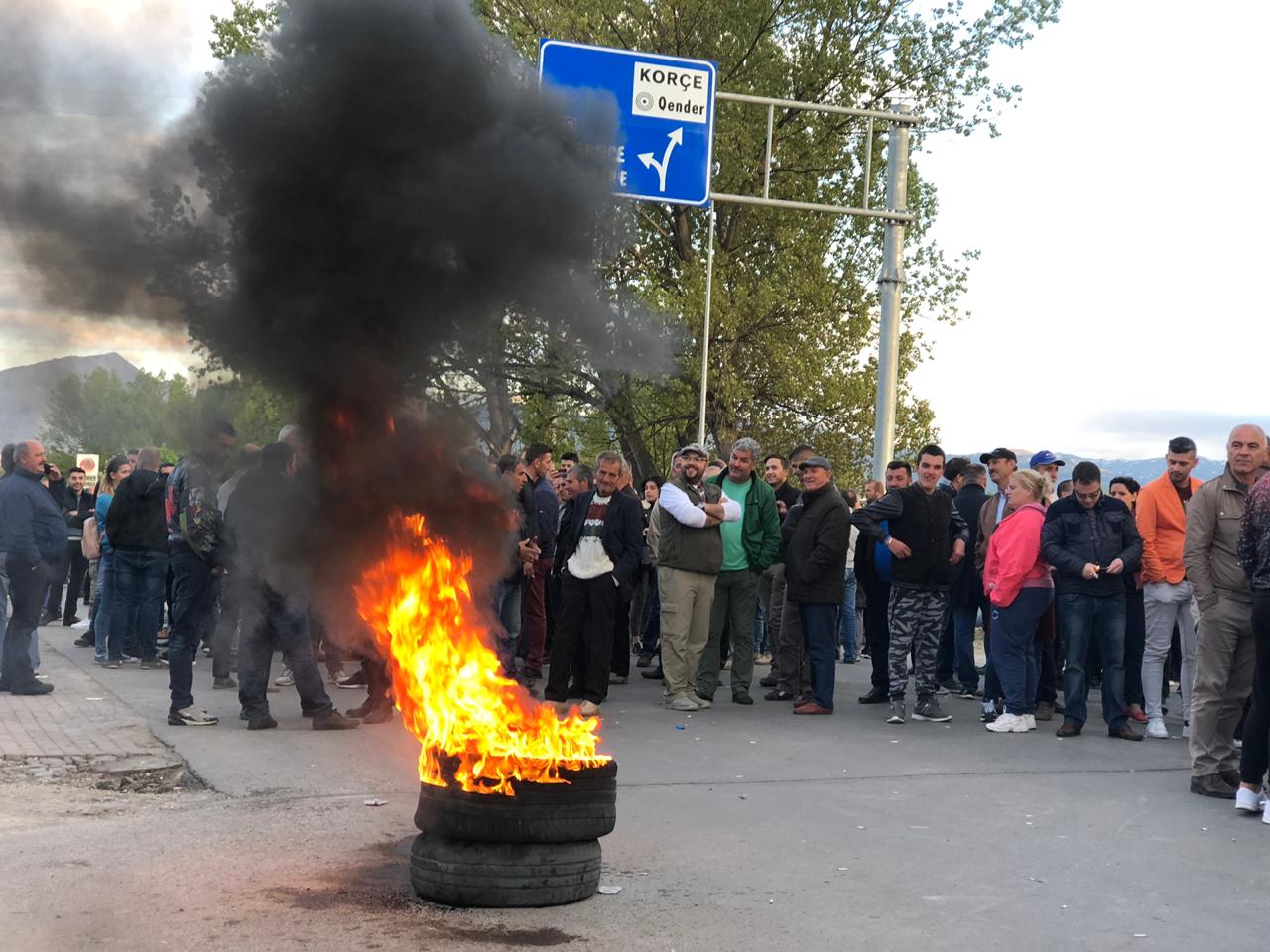 United opposition demonstrated last evening in 12 different locations across the country. This marks the start of what the opposition calls civil disobedience, expected to intensify in the days to come ahead of the big protest which is expected to take place in front of the government building on May 11. In contrast to a week ago, roads were blocked for two hours. This is the second time the opposition demonstrates in this form since the decision for mass resignation from parliament.
***
Incidents in different counties
In Fier, demonstrators clashed with riot police and broke the cordon in an attempt to reach the location where they had planned to gather. This incident only lasted a few minutes,after which demonstrators managed to reach the location. Meanwhile in Berat, demonstrators burned tires and chanted anti-government slogans. In Shkodra, a protester was not feeling well and an ambulance was called to take him to hospital. In Tirana, demonstrators lit up a fire in the New Ring Road construction site. In Lezha, many opposition demonstrators blocked a flyover. Protesters chanted anti-government slogans, while police asked them to disperse as their protest was illegal.
Salianji: Rama will face the law
"The more time the creation of an interim government takes, the bigger the cost that Edi Rama will have to bear". This was declared yesterday by former Democratic Party MP, Ervin Salianj from Korça, where he led the opposition's demonstration. According to him, Rama will see the same end as other dictators.
Paloka: Opposition will continue to protest
The vice chairman of the Democratic Party, Edi Paloka said yesterday that the opposition will continue to protest if Rama does not resign. "The Prime Minister must resign at once. This is not only the demand of the opposition, but this is the demand of every Albanian, in order to give way to free and fair elections in Albania. I would like to have the understanding of every Albanian for blocking the roads", he said, adding that the opposition will continue to protest and seek change, "because what awaits us is far worse than being blocked for two hours on the road". "These are small sacrifices that we ask citizens to make. If Rama continues to behave in an arrogant fashion, people will ask us to escalate protests. Rama will end up behind bars", Paloka also said.
Bardhi: Demonstrations in front of the prime minister's office will return
Democratic Party General Secretary, Gazmend Bardhi declared yesterday that the opposition's protests will not stop at this. According to him, demonstrations in front of the prime minister's office will return on 11 May at 6 pm. "The next demonstration in front of the prime minister's office will be even bigger than the one held on 16 February and 16 March and the one held on April 13", Bardhi declared.