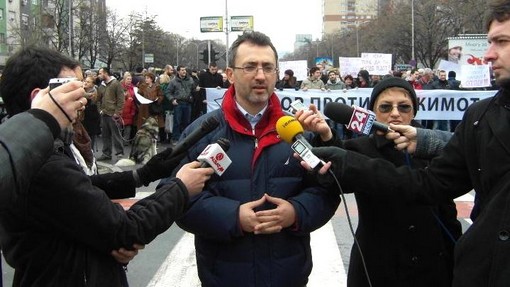 Skopje, May 15, 2013
Opposition in FYROM has warned today the possibility of early general elections which will be called by VMRO-DPMNE of Prime Minister Nikola Gruevski.
The general secretary of the Social Democratic League of Macedonia (LSDM), Andrej Petrov said that there's every possibility for these elections to be held and that this spirit is being imposed by the largest party in power.
"The constellation of relations between parties of coalition VMRO-DPMNE and BDI and the anti-America antagonisms in pro government media along with the positioning toward Europe Union reminds us of 2008 and 2011 and this gives us the right to believe that the power is preparing the ground for early parliamentary elections", said Petrov.
Petrov didn't give any dates about the elections, but on the other hand, he has excluded every kind of optimism by the international community that there will be compromise on the issue of the name dispute.
The general secretary of the FYROM opposition party has not excluded the possibility of a coalition with the Democrat Union for Integration (BDI) in the commune of Tetovo, where there is still no agreement between BDI which has won the majority and VMRO-DPMNE. /ibna/