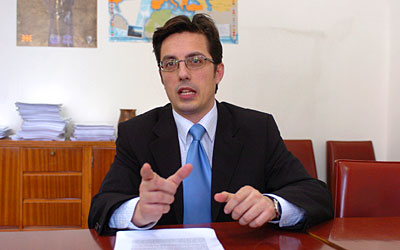 Skopje, December 13, 2013/ Balkan Independent News Agency
Largest Macedonian opposition party LSDM (Social Democratic League) is considering coming out with two nominees for the presidential election next year.
University professor, Stevo Pendarovski and former chief judge of the Constitutional Court, Branko Naumovski are the two most voted candidates in surveys and polls carried out by the opposition. These two names have the support of opposition parties and it's almost sure that one of them will get the green light by the leader of LSDM, Zoran Zaev.
Sources within the party declared that Pendarovski is the most accepted candidate for president even for the Albanian community and that he's expected to be the nominee. Pendarovski is known for his rational positioning on the issues that relate to Albanians in FYROM and that he has often debated in order to improve cross ethnic relations in the country and especially those between Albanians and Macedonians.
Pendarovski is known as former adviser on issues of security of the late Macedonian president Boris Trajkovski and later on, he joined Macedonian social democrats. Pendarovski is currently a professor in the American College in Skopje.
Meanwhile, the other candidate, Branko Naumovski, apart from holding the post of chief judge of the Constitutional Court in the past, he has also held the post of the first Ombudsman in FYROM. Naumovski is better known for his career in the justice system and has been less involved in political activities. There have been rumors that the current deputy chair of LSDM, Radmilla Sheqerinska would also run for this race, but she has denied such thing.
Meanwhile, none of the other political parties have announced any nominees for the presidential election. Such thing hasn't even been done by Albanian parties. Meanwhile, former diplomat of Turkish origins, Srgjan Kerim has expressed his interest and ambition to run for president, but he has demanded the support of the two largest parties in power, VMRO-DPMNE and BDI. Jove Kekenovski, a university professor may also be a potential candidate, be he hasn't yet had the support of the party in power VMRO-DPMNE. /ibna/