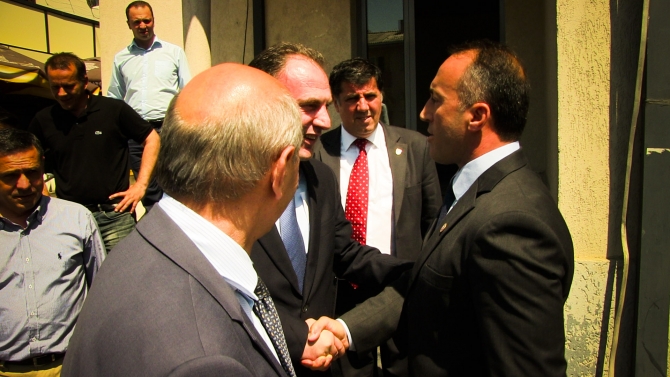 Pristina, September 22, 2014/Independent Balkan News Agency
By Elton Tota
Leaders of opposition bloc comprised of LDK, AAK, Incentive and Self Determination, have gathered today to discuss about the continuation of the constitutive session of the parliament of Kosovo.
After this meeting, leader of AAK, Ramush Haradinaj said that the coalition is worried about the way that the September 18 session was suspended and the fact that this session was not called to be resumed again.
He warned that the opposition will act until this session is not called until the end of the week.
"We're worried, because no debate was allowed in the session and its continuation has not been called. Wasting time like this, the abuse manifested by Mrs. Flora Brovina and the control of institutions of the country must have a limit. Our coalition along with Self Determination will set this limit one day, but it's the duty of PDK not to abuse with this right", said Haradinaj.
The opposition bloc based its claim for the post of speaker of parliament on the ruling of the Constitutional Court, which among others, demands MPs to find a constitutional solution for the speaker of parliament.
"I'm a free MP, elected with the votes of my people. The vote is free and I'm not obliged to vote the candidate of PDK. Other MPs also have their free will and no court, led by Enver Hasani, can tell them how to vote", added Haradinaj.
Meanwhile, general secretary of LDK, Ismet Beqiri said that PK will not be allowed to endlessly attempt the election of the speaker of parliament.
According to Beqiri, the project of the opposition consists on the election of the speaker of parliament to be elected by the majority of MPs.
He added that the opposition still doesn't know what action will be taken, but added that they will use the power of vote. /ibna/