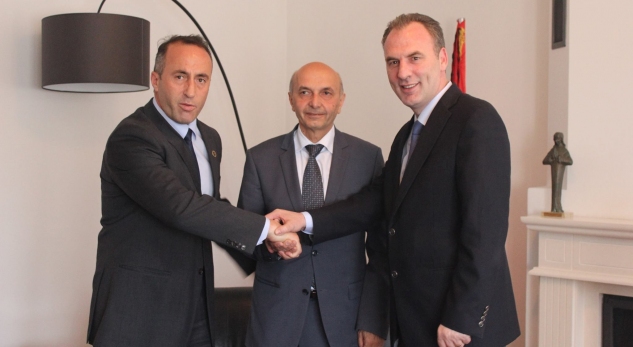 Pristina, June 16, 2014/Independent Balkan News Agency
By Elton Tota
A little less than 10 days are remaining until the certification of June 8 elections in Kosovo. This is sufficient time to exhaust all opinions and constitutional interpretations as to who will form the new government, PDK as the winning party of the elections or the post election coalition between LDK-AAK-INCENTIVE, backed every once and a while by Self Determination.
The leader of AAK, Ramush Haradinaj, who was nominated by the opposition coalition for the post of prime minister and leader of the Incentive for Kosovo, Fatmir Limaj have also used the weekend to talk about the creation of the new government.
But the talks have not taken place in the offices of their parties, but in one of the cafes of Pristina.
Present in these talks has also been the leader of Democratic League of Kosovo, Isa Mustafa.
One of the members of the coalition parties has confirmed that the talks are focusing right now on the actions which must be taken until the creation of the new government.
"So far, there haven't been talks about the governing program, but about the steps that must be followed until the new government is formed", said he.
According to the unnamed party member, the program will be unified once the president nominates Haradinaj for the creation of the government.
"Opposition parties concluded that they must not discuss the program without making sure that the coalition has the right to form the government, although PDK has won the elections".
Speaker of parliament blocks the creation of the government
Democratic Party of Kosovo which resulted a winner in the June 8 elections, is not reacting in a passive way toward the attempts of the three opposition parties, LDK, AAK and Incentive, who want to form the government.
In this case, PDK has been focused on the election of the speaker of parliament.
This party is hiring experienced lawyers, from Kosovo and abroad, to offer their interpretation as to whether the three opposition parties can unite and elect the speaker of parliament.
Based on the Constitution of Kosovo, on the day it's constituted, the composition of parliament must reflect the will of the voters.
The fusion of several groups into one group can be done after the constitution sitting, namely after the election of parliament's leading structures. /ibna/