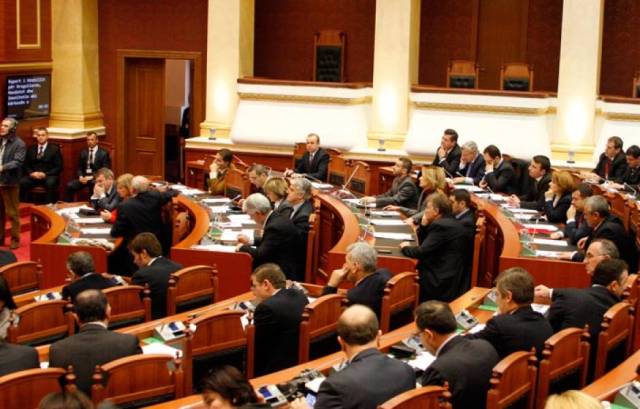 Tirana, 23 February 2016/Independent Balkan News Agency
The Albanian opposition has boycotted today indefinitely the work in the permanent parliamentary committees of laws, national security and media. The decision came as a sign of protest after the return to parliament of the MP, Armando Prenga.
Last week, the Supreme Court changed Prenga's security measure from house arrest to the obligation to appear in front of an officer of the court. Prenga is accused of illegal possession of weapons in public, light intentional injuries and intimidation.
At the start of September last year, the MP who belonged to the SP, was involved in an armed conflict relating to property issues at the Lagoon of Patok. The SP expelled Prenga from its parliamentary group.
The event sparked the reaction of the right wing opposition which had constantly accused the majority and PM Rama directly, of coming in power through the support of incriminated people.
Based on this event and several others, the DP established its cause for the decriminalization of Albanian politics, by making this problem an international one.
Now, after Prenga's return to parliament, the Democratic Party parliamentary group has decided to hold a new positioning. It demanded today for parliament to apply the law on decriminalization. The DP parliamentary group asked the voting of the bylaws in order to immediately apply the Bill on Decriminalization.
The DP said that these acts must be approved in the next parliamentary session on Thursday.
"Edi Rama is showing that he has a lack of will for the application of the decriminalization law and that he openly supports the incriminated people that he has in his party and who hold public posts. The Democratic Party will condition any normal functioning of parliament with the approval this Thursday of the decision that sets in motion the application of the Decriminalization law", reads the statement of the largest party of the opposition, following a meeting with closed doors to decide on further political steps.
The government and the majority have expressed their readiness for the law on decriminalization. A year ago, socialists and the opposition reached an agreement to draft laws and other acts in order to prevent the involvement of people with criminal records in institutions. So far, no concrete steps have been taken to remove criminals from parliament and state offices. /ibna/