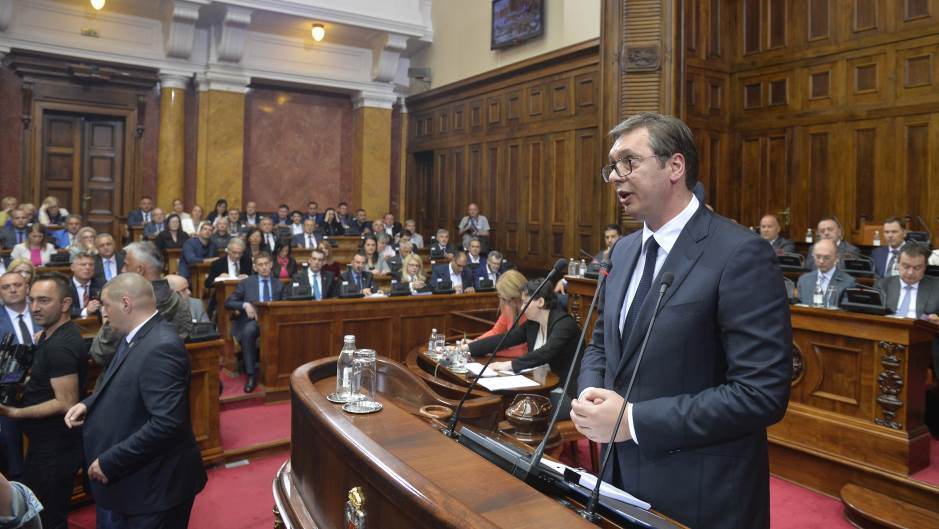 "The time has come openly to choose between a sweet lie and the bitter truth whatever it is", said President Aleksandar Vucic, presenting his Report on Kosovo and Metohija in Parliament.
Vucic has claimed that Belgrade-Pristina talks were "very important because we have succeeded in returning the Kosovo and Metohija issue at the negotiating table". "We will get more than we had, and I am absolutely convinced about it", he went on without being more specific.
At the same time, opposition members of parliament have boycotted this special session on Kosovo. Earlier today they have said that it would be a "farce", a "reality show" and "psycho drama".
Vucic insisted that "the answer to an important question must be given: in what we believe, in a lie or the truth". "Without that we will not know what we are capable of; where are the boundaries of our country and our dreams, as well as our reality".
"Without that we will not know where Kosovo is, where Metohija is, who rules over them; where are we, Serbs, in Kosovo and Metohija", he went on.
"If we do not change something, in the Western Balkans Albanians will be twice our number in 2020", Vucic said.
The president did not specified for what kind of change he allegedly strives for.
He mentioned the foreign pressures on his government. "European powers and United States have allowed Pristina not to create a Community of Serb Municipality for six years; and this was the only obligation of Albanians in accordance to the Brussels Agreement", Vucic said alluding on Pristina authorities.
Vucic has claimed that both French President Emmanuel Macron and German Chancellor Angela Merkel could not persuade the "Albanians" to abolish the 100 percent tariff on Serbian goods. "Because they (Albanians) enjoy the protection of somebody more powerful".
"Someone", as Vucic said, from the international community want to force Serbia to recognize Kosovo's independence. At the same time, he added, a frozen conflict cannot be the long lasting solution because the "Albanians" rebuff it.
Opposition MP's had insisted in advance that Vucic's speech would be a "farce".
Marinika Tepic from the Alliance for Serbia said that Vucic would try to accuse the "opposition and the nation" for his alleged "fiasco" with regard to the Kosovo issue.
"We do not want to take part in this", Tepic said./ibna