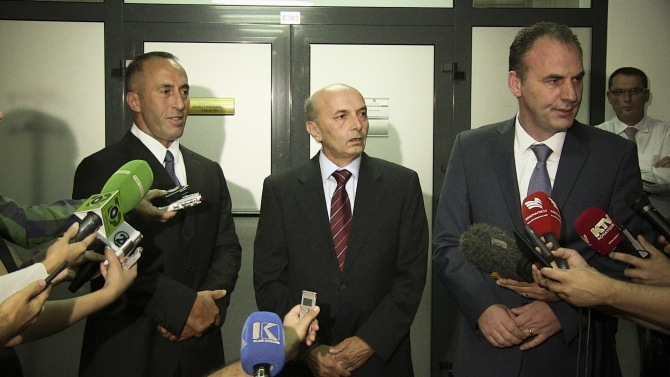 Pristina, September 1, 2014/Independent Balkan News Agency
By Elton Tota
Opposition bloc comprised of LDK-AAK-Incentive, has met today in the offices of the Parliamentary Group of LDK in the parliament of Kosovo.
The post election bloc says that it's reconfirming its determination to take the formation of the new government forward.
Head of LDK, Isa Mustafa says that the offer of the opposition bloc serves to democratic development of Kosovo and creation of fair and democratic institutions.
"We will continue to work together and we're convinced that parliament of Kosovo will decide with the majority of votes for the future institutions and for this, we have the full support of our members and voters that we represent in this coalition".
The leader of AAK, Ramush Haradinaj said that preparations are being made for the next parliamentary session.
"It's unusual that an outgoing government is holding office for such a long time. Thanks to our June 10 coalition agreement, we will not have a Thaci 3 government. We will offer the country new institutions".
Asked as to how he will reply Thaci's invitation to negotiate, Haradinaj said that the acting prime minister is not in a position to invite, because he has no votes.
"He has no way out. We have invited those whom we have considered as partners. We plan on not negotiating the post of the speaker of parliament or the institutions of the country. The biggest damage is being made to the citizens of the country. The country is being harmed by the outgoing government. Recently, power supply has become dearer, economic situation has worsened and citizens face many problems. Nevertheless, the only good news is that there will not be a Thaci 3 government", said Haradinaj.
"We respect justice institutions, but we're also obliged to respect the will of the citizens of Kosovo, a will which has been summarized with the majority of political subjects and other partners. We expect institutions to be formed as soon as possible", said the leader of Incentive for Kosovo, Fatmir Limaj. /ibna/