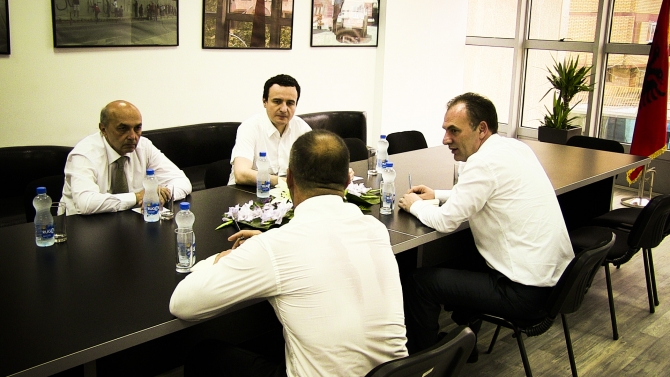 Pristina, September 9, 2014/ Independent Balkan News Agency
By Elton Tota
Opposition bloc consisting of LDK-AAK-Incentive have reached an agreement in order to lead together the future government of Kosovo. IBNA learns that this agreement will be signed on Wednesday at 1 pm.
In case opposition parties come to an agreement to form the government, this document presents a governing platform which sets forth the economic development of the country, growth of employment and wellbeing of the citizens, substantial reforms in education and health system, the strengthening of the rule of law and fight against organized crime and corruption.
Besides this, parties have agreed to undertake institutional reforms with the scope of democratizing the country and increasing the efficiency of institutions.
The document also says that the opposition block has agreed with Self Determination to establish open democratic talks with the Serb minority in Kosovo for their full integration as equal citizens of Kosovo through economic and social development.
This document also mentions the issue of talks with Serbia, saying that the results of the agreements signed so far must be reviewed.
Meanwhile, until tomorrow afternoon, the draft agreement is expected to be definitely finalized by the opposition bloc and Self Determination.
General secretary of the Alliance for the Future of Kosovo (AAK), Burim Ramandani said that the agreement between the opposition and Self Determination is the best news that it's been heard in months or years.
According to him, the majority of political parties are in favor of a government formed by this coalition while the "opposition will consist on one political party, PDK".
"There cannot be a wider coalition, because there's only one political party in opposition", declared Ramadani.
Self Determination MP, Visar Ymeri said that after this agreement, the opposition has absolute majority in parliament and will create the institutions.
"Along with the Self Determination, the opposition bloc will almost have an absolute majority in the parliament of Kosovo and I don't see any reason why the institutions of Kosovo cannot be formed. On the other hand, I believe that the ruling of Constitutional Court has been extraordinarily damaging in this process, because this ruling has favored a political party that wants to stay in power by all means", declared Ymeri. /ibna/